We know you're aware of the importance of applying sunscreens before stepping outdoors. After all, who likes uneven pigmentation and red sunburn patches? But did you know it's equally important to apply sunscreen indoors - say when you're working from home in the new 2021 normal and don't have plans to step out for days at a stretch?
Given the sultry Indian weather, dermatologists recommend applying sunscreens daily on the face, neck, and hands to shield your skin from the damaging UVA & UVB rays. But the real question is, "Which are the best sunscreen lotion and creams available in India?" Explore our 10-best list of sunscreen recommendations for use in 2021.
Quick Tips to Use Sunscreens & Lotions Effectively
Apply sunscreen creams & lotions in a circular motion every day - preferably thrice a day.

We recommend keeping a window of at least 20 minutes between applying the sunscreen cream and stepping out.

There is a borderline difference between SPF 30 & SPF 50. Thus, you can purchase sunscreens with a minimum of SPF 30.
1.Lotus Herbals Safe Sun UV Screen MatteGel SPF 50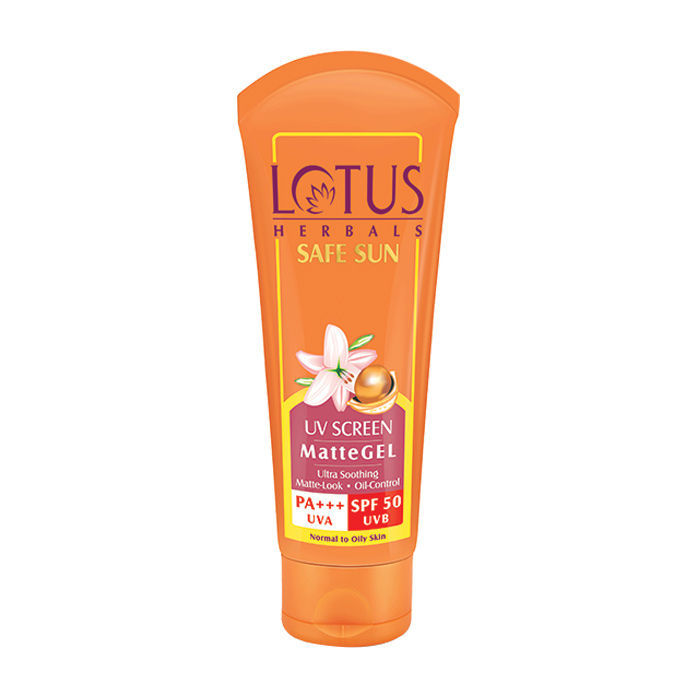 The Lotus Herbals Safe Sun UV Screen MatteGel is a non-oily matte finish cream that rejuvenates your skin against sun exposure. Comprising Horse Chestnut, Sebum Control Vanilla, and Comfrey, this sunscreen works wonders to protect your skin against suntan, sunburns, skin darkening, and premature ageing (wrinkles). The matte finish ensures no oil secretion, leaving a soothing effect on your skin.
Best suited for - Normal & Oily Skin Types
2.Biotique Bio Sandalwood: 50+ SPF UVA/UVB Sunscreen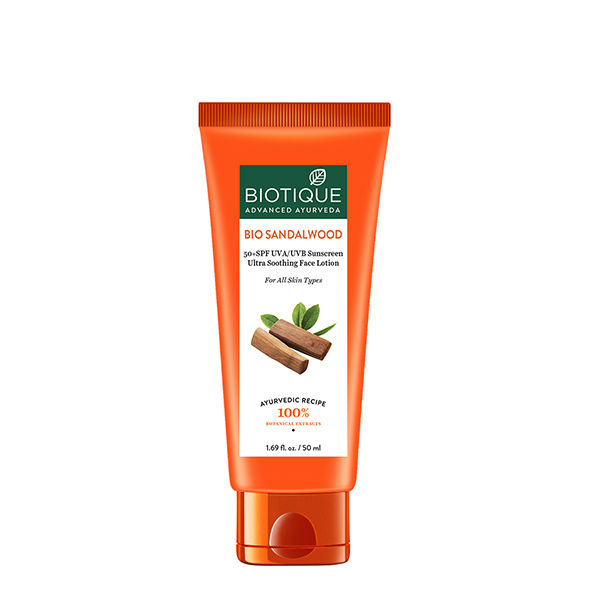 Biotique's Bio Sandalwood Ultra Soothing Face Lotion is a pure mixture of sandalwood, honey, and arjun tree barks that ensures smooth, glowing, healing, and moisturizing skin. The SPF 50 ensures skin de-tan and protection against harmful UV rays. Dermatologically tested, this product is water-resistant, retaining the SPF advantage for up to 80 minutes in water.
Best suited for - All Skin Types
3.Biotique Morning Nectar Sun Protector Sunscreen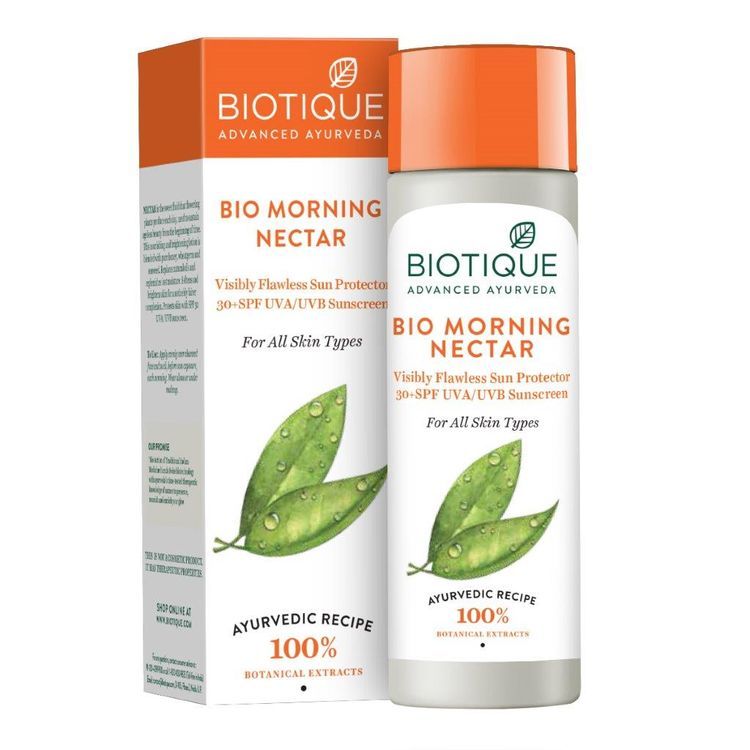 If you're looking to protect your skin against the harmful UV rays along with achieving a refreshing look, pick Biotique's Morning Nectar Visibly Flawless Sun Protector 30+ SPF. Enriched with the goodness of pure honey, pineapple, tomato, and aloe vera, it works like a charm to ensure a soothing, hydrating, nourishing, and smooth texture of the face skin. This light-weight sunblock is perfect for blocking sunspots and sunburns.
Best suited for - All Skin Types


4. St.Botanica Vitamin C SPF 50 Sunblock Face & Body Mist Sunscreen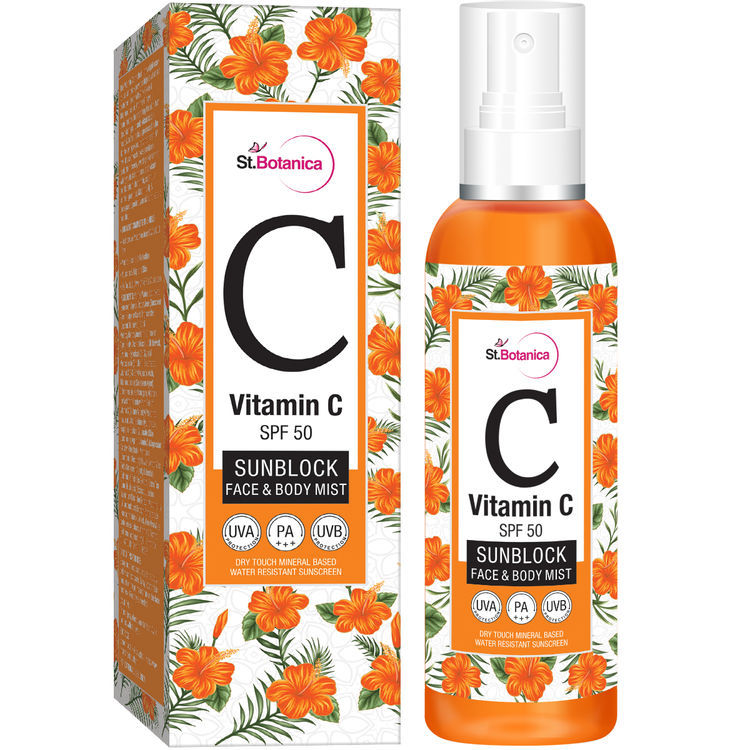 A unique light-weight, long-lasting, and minerals, vitamins, and botanical rich sunscreen mist, St. Botanica's SPF 50 Sunblock provides 360-degree protection from UV rays. Infused with the richness of aloe vera, green tea, vitamin E, jasmine & lily oils, this sunblock is a trending product to achieve an even skin tone, skin radiance, and wrinkle-free skin. If you're battling damaged skin, skin impurities, sun spots, sunburns, and hyperpigmentation, regularly use this mist to experience the transformation!
Best suited for - All Skin Types

5. Plum Green Tea Day-Light Sunscreen SPF 35 PA+++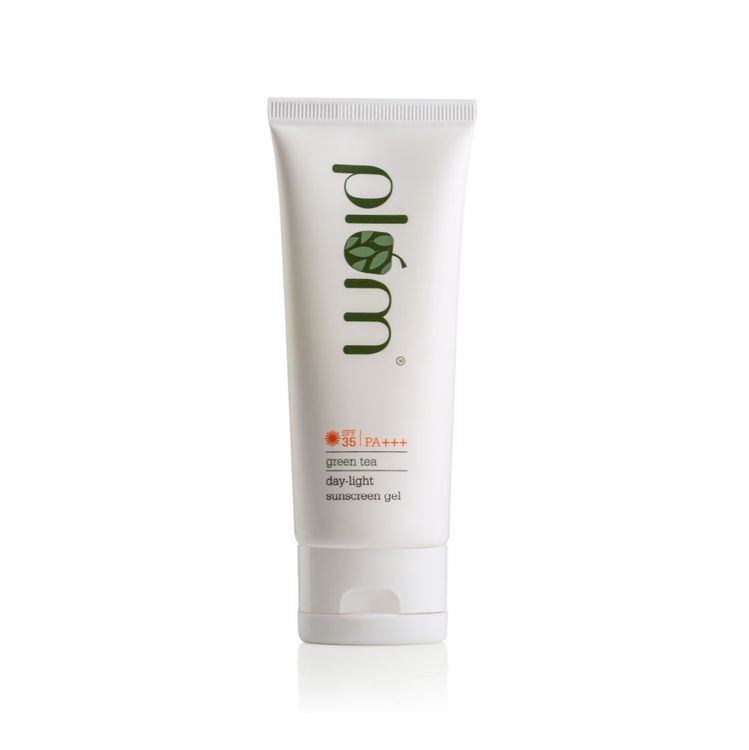 Power-packed with the goodness of aloe juice & green tea extracts, the Plum Green Tea Day-Light Sunscreen is a magical sunblock that ensures an ultra-light gel texture and lightweight comfort for oily and acne-prone skins. This 100% vegan & non-comedogenic gel calms irritated skin and offers protection against UVA & UVB rays.
Best suited for - Oily & Acne-prone Skin Types
Not recommended for - Very Dry skin

6.Wow Skin Science AM2PM Sunscreen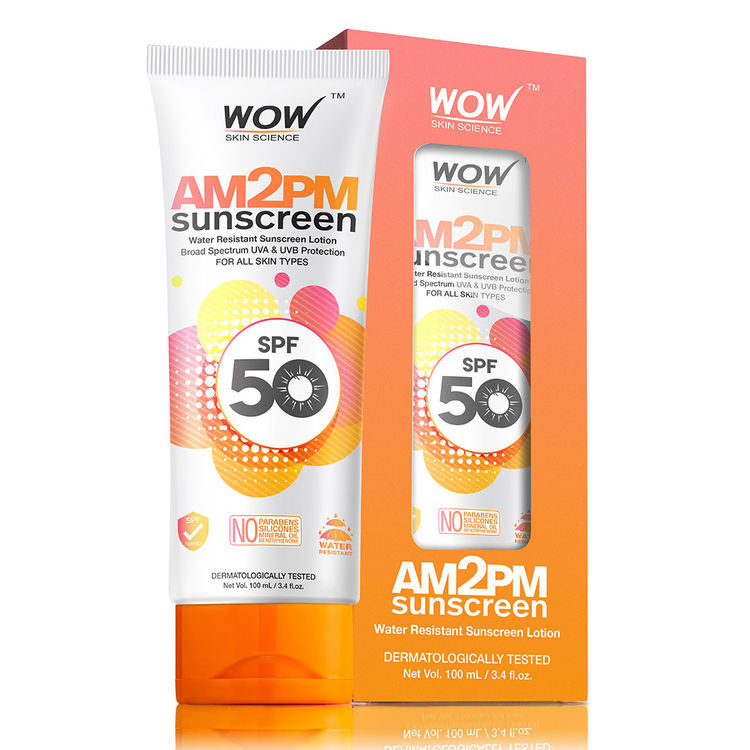 If you're a water baby or someone who experiences plentiful sweating, opt for Wow's AM2PM SPF 50 UVA & UVB Protection Sunscreen in your self-care routine. This non-greasy and water-resistant use of sunscreen lotion protects your skin from sunburn, sunspots, pigmentation, dullness, wrinkles, dehydrated skin, blemishes, and fine lines for longer hours. Dermatologically tested, this broad-spectrum protection is the result of an enriching mix of aloe vera, vitamin E, and argan oil.
Best suited for - All Skin Types

7. Good Vibes Wide Spectrum Sunscreen with SPF 30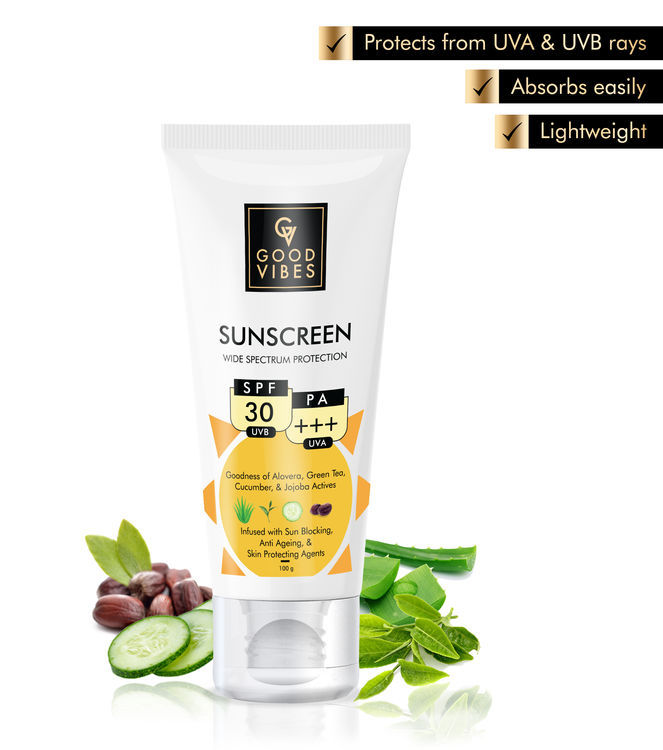 Choose the Good Vibes Wide Spectrum if you want to wear a cooling, nourishing, and deeply moisturizing sunscreen. Made from a healthy mix of cucumber, aloe vera, green tea, and jojoba extract, this light-weight and non-greasy sunblock prevents anti-ageing, skin tan, dullness, and damaged skin. Best part? It doesn't leave a white cast on your skin!
Best suited for - All Skin Types

8. Aroma Magic Cucumber Sunscreen Lotion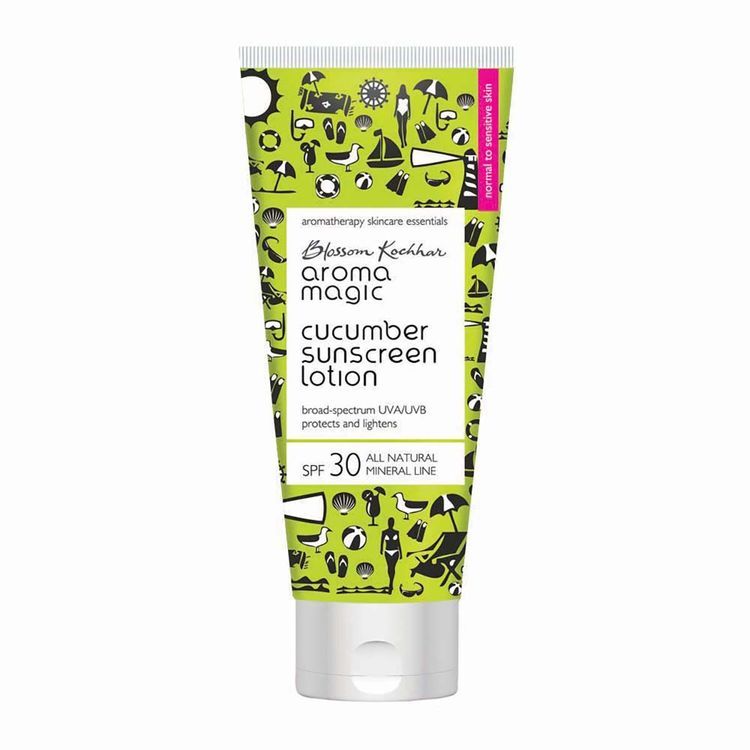 If you have sensitive skin that reacts to almost everything, Aroma's Magic Cucumber Lotion is the solution for you. Free from toxic allergy trigger ingredients like oxybenzone, paraben, alcohol, and artificial fragments, this mineral-rich and ultra-light sunscreen lotion ensures absolute protection from the sun. Cucumber ensures smooth and cooling skin, while Vitamins B5, C, and E offer natural protection from UV rays and prevent premature ageing.
Best suited for - Dry & Sensitive Skin Types

9. VLCC SPF 60 Sunscreen Gel Creme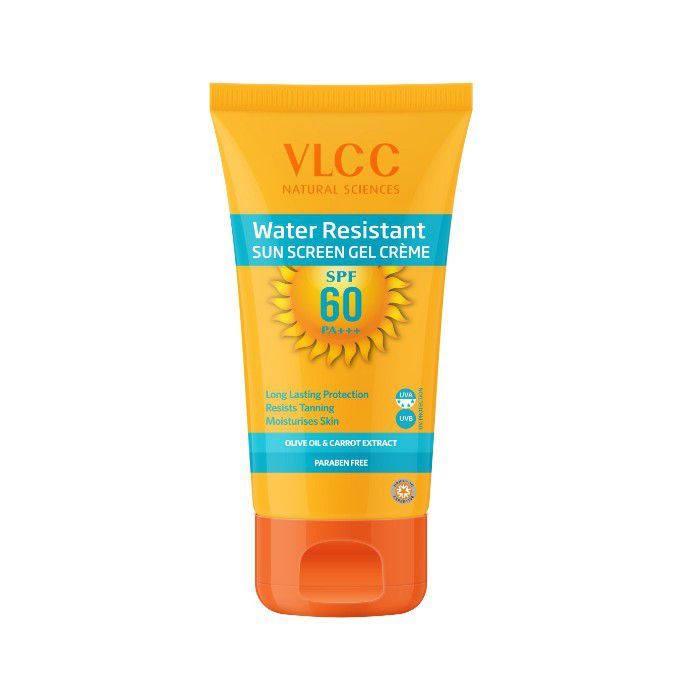 Bask & play in the sun for as long as you want with VLCC SPF 60 Sunscreen Gel. This powerful formulation is the perfect water-resistant and long-lasting solution against sun protection. Supplemented by carrots, grapes, cucumber, and aloe vera, it protects your skin from wrinkles, fine lines, and tanning.
Best suited for - All Skin Types

10. Globus Sunscreen Lotion with SPF 50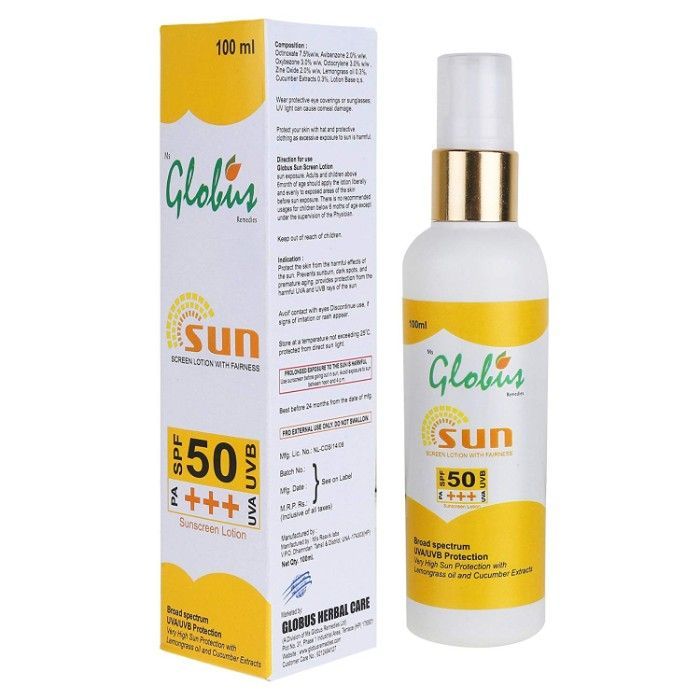 Well-suited for the Indian weather, the Globus Sunscreen Lotion ensures absolute protection from tanning, dark spots, pigmentation, and premature ageing. The rich benefits of cucumber extracts and lemongrass oil ensure this hydrating formula is deeply absorbed in your skin without leaving any uneven white patches.
Best suited for - All Skin types