Purplle's Beauty Advisory Panel Consists Of Renowned Experts In All Fields Of Beauty. The Panel Is Made Of Celebrity Hairstylists, Renowned Wellness Experts, India's Top Makeup Experts & Beauty Bloggers. Be Prepared To Take Lessons As These Experts Share Tips, Articles & Videos On Product Reviews, Style Trends, Routines, Personal Wellness & Many Other Things.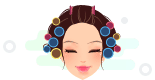 Hair
Experts

Makeup
Experts
Meenakshi Dutt

India's Top Bridal Makeup Expert

View Profile

Meenakshi Dutt

India's Top Bridal Makeup Expert

Meenakshi Dutt is best known in India and around the world for her streamlined, common sense approach to beauty and style. Focus and determination paid off for Meenakshi when she won the Miss Delhi and Miss Navy Queen Contests and opted to become a professional model in 1988. She ruled the ramp, became the most sought after model and TV talk-show anchor and then shifted gears to choose the challenging career of that of a makeover expert and stylist in 2003.

In the last 9 years, Meenakshi has touched her magic wand on innumerable Indian supermodels and beauty queens like Amrita Rao, Bipasha Basu, Tanushree Dutta, Sayali, Laxmi Pandit, Yukta Mookhey, Neha Dhupia, Indrani Dasgupta, Yana Gupta, Nikita Anand, Anupama Verma, Jesse Randhawa and Fleur Xavier, to name a few.

Naina Arora

Makeup Stylist

View Profile

Naina Arora

Makeup Stylist

Naina Arora is a creative stylist who has been enhancing a number of ads by giving fabulous looks through the art of make-up for the past 15 years, a re-creator who has done wardrobe styling for models. She runs her own salon/ makeup studio at Shivalik in South Delhi, where apart from offering makeups and makeovers, Bridal styling, grooming classes, and full beauty services for men and women are provided. She believes in personalised service, and is always there to advise and direct the clients to look their best.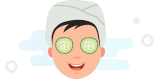 Wellness
Experts
Dr. Apoorva Shah

Founder, Richfeel Trichology

View Profile

Dr. Apoorva Shah

Founder, Richfeel Trichology

Dr. Apoorva Shah has pioneered the trichology concept in India and has featured in the Limca book of records as India's first certified trichologist. He is also popularly referred to as the "Shah of Trichology" for his extensive work. From pioneering to raising an empire in the trichology segment, Dr. Apoorva Shah has come a long way from just being India's early trichologists.

Rekha Chaudhari

Expert Spa Therapist

View Profile

Rekha Chaudhari

Expert Spa Therapist

Mrs. Rekha Chaudhari a spa expert since the past 22 years. She has set a new horizon and meaning to the concept of Spa and Wellness Industry. She has redefined the concept of feeling genuine, high energy, being stress resilient, enjoying a positive attitude with a healthy body weight and age defying appearance.

She is the first lady in India to have patent therapy in her kitty. Which is the ""The Novel Rope Massage"". She won an award for the same "Most Innovative Spa Treatment 2010" by Asia Spa. And also product brand name Remy Laure has been awarded as the Best Spa Product 2010 by Asia Spa.

Beauty Bloggers