Aryanveda Fruit Secrets 3X Home Spa Kit (55 g) With Aryanveda Sunprotective Matte Gel Spf-50 (60 ML) Combo Pack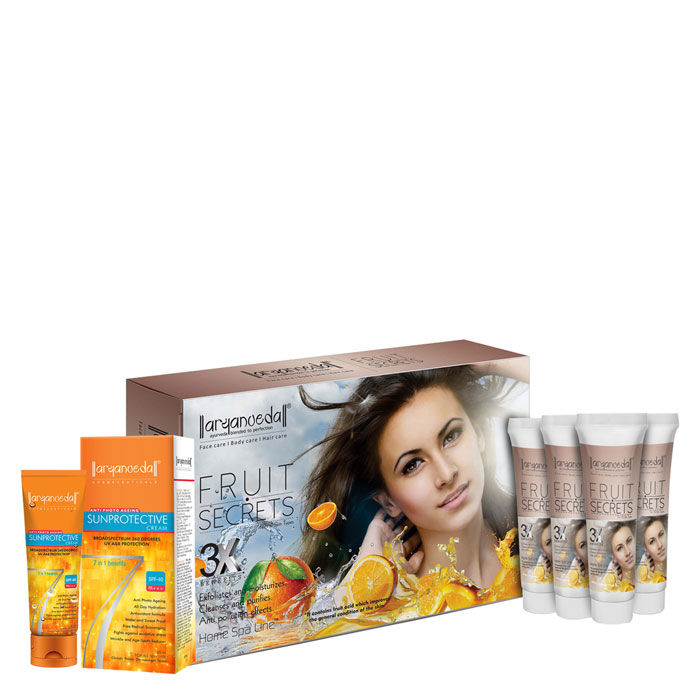 Aryanveda Fruit Secrets 3X Home Spa Kit (55 g) With Aryanveda Sunprotective Matte Gel Spf-50 (60 ML) Combo Pack
+INFO
Be the first to review

100% Genuine Products

Return 15 Days
Description
Highlights
Fruit Cleanser-Aryanveda Fruit Kit Cleanser is enriched with natural goodness of fruits . The magic of fruits cast a spell on your face while cleansing skin, regulating pigmentation & controlling minor skin disorders. Having natural enzymes , it gently exfoliates skin while nourishing skin with the natural goodness of fruits.
Ideal For
All Skin Types

Pigmentation
Benefits
Skin Cleansing

Reduces Pigmentation
Description
ssage Cream is beautiful combination of natural ingredients to impart a natural glow on your skin unseen ever before.
The natural goodness of papaya enzymes exfoliates skin while almond and olive oil enriches skin with essential oils and moisture balance.
Naturally, your skin would look simply awesome .
Fruit Pack-Aryanveda Fruit Kit Pack has time tested herbs which are ideal to impart a beautiful radiant skin.
Its gentle touch takes you into the heaven of fruits and when you return , you find yourself adorned in beauty.
When the sun beats down the earth, it is bound to harm your delicate skin.Problems of sun-burns, oily and dark skin will surely make you think twice before going outdoors.
Now dona€™t ponder over it too much.
Leave it to Aryanveda SPF 50 Sunscreen.
It is specifically formulated with anti-photo aging actives to shield skin against powerful UVA/UVB rays which cause sunburn, cell damage, dryness, roughness.
It makes sure that premature signs of aging such as age- spots, wrinkles, leathery skin do not set on your face.
The actives presented in it are intense sunscreens and sun filters that reflect, scatter and absorb all the UVA & UVB rays.
It absorbs quickly, leaving no visible white residue or trace of stickiness.
So when the solution is within, why not beat the sun for a change!
Read more
Specification
Skin Concern :
Pigmentation
Skin Type :
All Skin Types
Speciality :
Alcohol Free, Ayurvedic, Dermatologically Tested, Halal, Herbal, Mineral Oil Free, No Artificial Fragrances, No Preservatives, Paraben Free, Vegan
Active Ingredients :
Aloe Vera, Aloe Vera Oil, Carrot Oil, Cucumber, Indian Madder (Manjishta), Olive Oil, Papaya, Papaya Leaf, Walnut, Watermelon
Benefits :
Reduces Pigmentation, Skin Cleansing
Country of Origin :
India
15 days Return Policy, free Shipping...Know more