Dr. Vaidya's Allergic Pills Pack of 3 - Allergy & Cold Is Out Of Stock.
This product is out of stock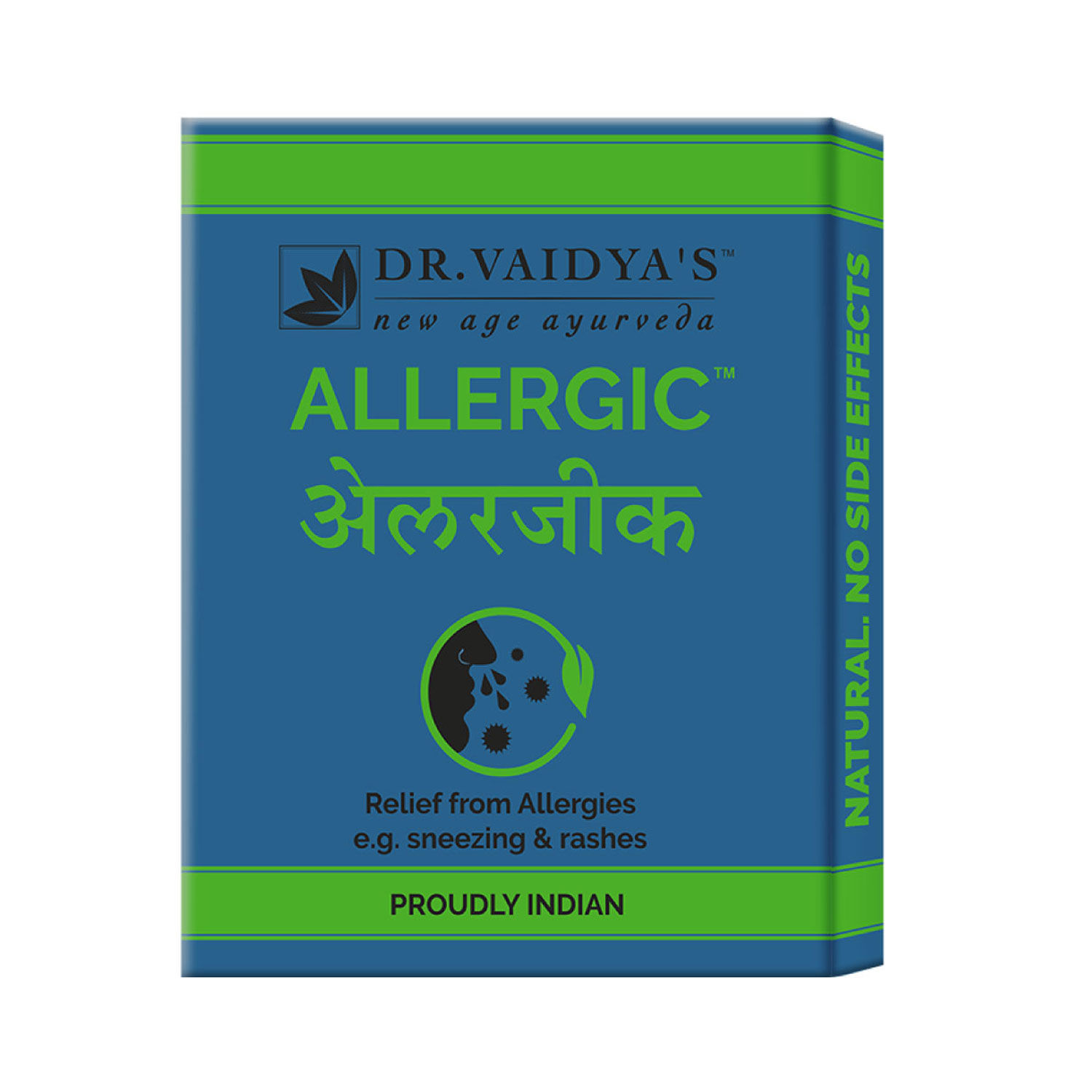 Dr. Vaidya's Allergic Pills Pack of 3 - Allergy & Cold
+INFO
Be the first to review

100% Genuine Products

Return 15 Days
Description
From the Manufacturers
Dr. Vaidya's Allergic is a natural supplement that protects against and provides relief from allergic reactions. Made from purely natural ingredients, Allergic supplement contains a blend of 6 Ayurvedic herbs with proven anti-allergy, antihistamine, anti-inflammatory, and analgesic effects. These include sithopaladi, bans kapur, pipper, cinnamon, elaichi, and jyesthimadhu. These herbs help in the prevention and management of allergic reactions, whether caused by food borne allergens, air borne pollutants, or contact dermatitis.
With absolutely no synthetic or chemical ingredients, this natural supplement for allergy relief modulates the immune response to lower hyperactive immunity without posing the high risk of side effects from conventional corticosteroids. For optimal results, Allergic Ayurvedic pills should be consumed strictly according to the dosage recommendations. Natural supplements require consistent and long term use to get the best results and this supplement should be consumed for a period of at least 3-6 months.
Ingredient/Product Benefits
Sithopaladi or Khaddi Shakar is regarded as a natural antihistamine in Ayurveda, reducing the allergic response. It is also helpful in relieving bronchial and upper respiratory tract infections and congestion.
Pipper or Balinese Pepper has proven anti-inflammatory and immuno-modulatory effects. It can minimize the risk of allergic reactions, reducing their severity and also the duration of such allergic attacks.
Mainly known for its digestive health benefits, elaichi can help protect against damage caused to the gastrointestinal tract by allergic reactions to food, also reducing the risk and severity of such allergic reactions.
Jyesthimadhu is regarded as a lung toner in Ayurveda. By strengthening lung function the herb lowers the risk of airway inflammation and congestion, improving airflow and protecting against respiratory allergic reactions.
Allergic Ayurvedic Pills have been designed specifically increase protection and provide relief from common allergic reactions. The supplement contains no added chemicals or synthetic ingredients and only includes herbal extracts from high quality sources.
Tested for Quality & Efficacy
Allergic Ayurvedic Pills are made using high quality herbal ingredients to maintain product efficacy and safety. Stringent testing and quality control practices are also used to formulate the herbal blend so as to increase the bioavailability of organic compounds in the herbs.
Daily recommended dosage is 2 capsules a day
Best consumed after breakfast and dinner
Should be consumed daily for a period of at least 6 months to get the best results
NOTE: In cases where the allergic reaction causes hives or skin rashes, Allergic Ayurvedic Pills must be taken along with Amlapittavati. In case of respiratory allergic reactions, efficacy can be improved by also taking Shardardaghna
CONTRAINDICATIONS: Diabetic patients are advised against taking Allergic Ayurvedic Pills
With a heritage dating back 150 years, Dr. Vaidya's has been at the forefront of the modern Ayurvedic revolution, making age old formulations more accessible and suitable for modern day users. Dr. Vaidya's is a household name with a strong reputation for quality thanks to its high standards of research, testing, and quality control. Thanks to its pioneering efforts in the modern Ayurvedic space, Dr. Vaidya's became the first Ayurveda brand to be featured in the Forbes 30 Under 30 Asia List.
The brand focus is on providing consumers with clinically proven natural Ayurvedic products to support everyday health and wellness. Their loyal following of customers has been cultivated through a commitment to excellence, with a reputation for creating effective formulations that only use high quality natural ingredients. Polyherbal formulations produced by Dr. Vaidya are meticulously crafted to maximize bioavailability of key ingredients without adding chemically derived or synthetic products.
As a startup with a legacy to preserve, Dr. Vaidya's is not focused solely on market expansion, but on increasing the satisfaction and wellbeing of its most loyal customers. At Dr. Vaidya's, your health matters, and so does your opinion. To this end, consumer feedback is regarded as a valuable resource along with current research to formulate and update products routinely. We believe that consumer wellbeing is critical to our success and we endeavor to create the best products to promote natural health and wellness.
Read more
Highlights
Relief from Allergies
Description
Allergic is a specially formulated tablet that aims at treating the respiratory congestion, by slowly de-sensitizing you to various allergens, such as dust, pollen grains etc. An ideal ayurvedic medicine for allergy, allergic is availed in the form of a tablet. Created to treat ailments related to Kapha one of the three doshas as pointed out in Ayurveda, this tablet has proven to be an effective dust allergy treatment in Ayurveda. Not only does it help get rid of the any excess Kapha, but also ensures a proper fluid balance in all the tissues. While the medicine allows clear breathing, it ensures that issues pertaining the upper lung such as cough, cold, nose blockages, sinus, and throat irritation are easily done away with
Read more
Specification
Country of Origin :
India
15 days Return Policy, free Shipping...Know more