Dr. Vaidya's Cycloherb - PCOD/PCOS (Pack of 2)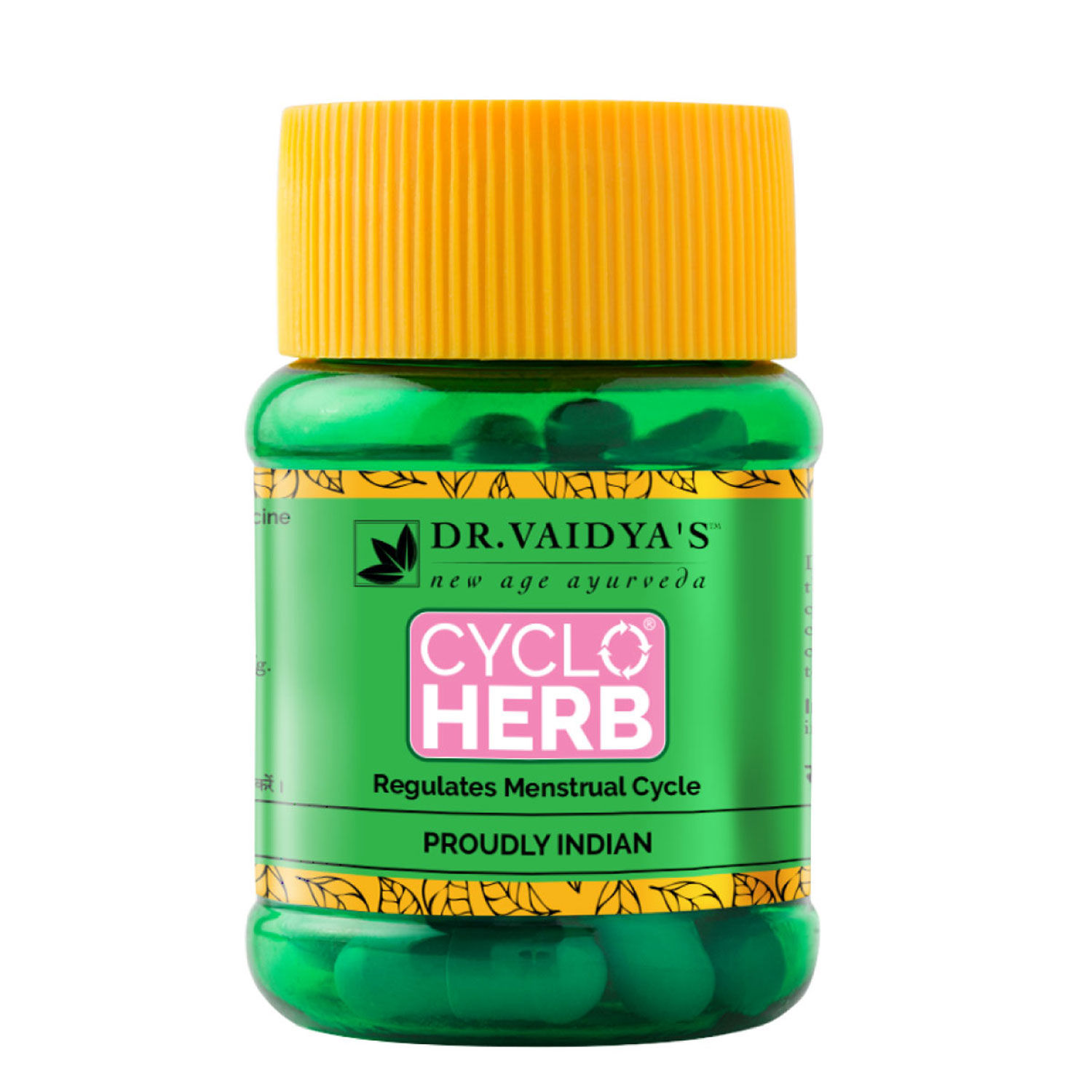 Dr. Vaidya's Cycloherb - PCOD/PCOS (Pack of 2)
+INFO
Be the first to review

100% Genuine Products

Return 15 Days
Description
From the Manufacturers
Dr. Vaidya's Cycloherb is an Ayurvedica supplement for PCOS that is made using purely natural ingredients. Cycloherb contains a proprietary blend of 32 herbs with proven benefits for women with PCOS. This natural supplement for PCOS is made with ingredients such as herbs such as amla, shilajit, pipramool, and devdar that are proven to support healthy reproductive function and the restoration of optimal hormonal levels. By addressing the underlying causes of PCOS, Cycloherb can provide relief from menstrual cycle irregularities and pain, as well as from digestive problems, skin disorders, and other complications linked to PCOS.
Cycloherb is your best defense against the growing threat of PCOD, which now afflicts 1 in 5 women. As a completely natural product, Cycloherb takes a holistic approach to women's wellness and does not pose any risk of side effects associated with conventional medications used to manage the condition. The blend of herbs has been precisely formulated based on intensive research, testing, and information from ancient Ayurvedic texts. As Cycloherb does not contain any added chemical or synthetic ingredients, it can be used for longer durations. Cycloherb PCOD supplement must be taken daily for a period of at least 3 months for you to get the best results.
Ingredient/Product Benefits
Regarded as a rejuvenating herb, amla has a high nutritional density and strong antioxidant effect that helps reduce inflammation, modulates hormonal balance, and detoxifies the body.
An organic substance extracted from Himalayan rock formations, shilajit has proven rejuvenative, immuno-modulatory, and diuretic effects that can help relieve symptoms of PCOD.
Also known as the Himalayan Cedar, the bark, wood, and oil extract of this tree are all important Ayurvedic ingredients because of their anti-inflammatory, diuretic, cardio-protective, and antiseptic properties.
Often described as pipli or Indian Long Pepper, this ingredient can help to regularize the menstrual cycle, relieve menstrual cramps, and raise fertility levels, improving the outlook for PCOD patients.
Cycloherb is made exclusively from natural ingredients, containing 32 herbal extracts including herbs such as amla, shilajit, pipramool, haldi, dhania, and devdar, among others. It does not contain any chemicals or artificial flavoring and coloring ingredients.
Tested for Quality & Efficacy
Cycloherb is made using premium ingredients that are stringently tested for quality, efficacy, and safety. Based on intensive research, the blend of herbs has been carefully formulated to maximize the efficacy of its active natural ingredients.
Daily recommended dosage is 2 capsules a day
Should be consumed daily for a period of at least 3 months to get the best results
With a heritage dating back 150 years, Dr. Vaidya's has been at the forefront of the modern Ayurvedic revolution, making age old formulations more accessible and suitable for modern day users. Dr. Vaidya's is a household name with a strong reputation for quality thanks to its high standards of research, testing, and quality control. Thanks to its pioneering efforts in the modern Ayurvedic space, Dr. Vaidya's became the first Ayurveda brand to be featured in the Forbes 30 Under 30 Asia List.
The brand focus is on providing consumers with clinically proven natural Ayurvedic products to support everyday health and wellness. Their loyal following of customers has been cultivated through a commitment to excellence, with a reputation for creating effective formulations that only use high quality natural ingredients. Polyherbal formulations produced by Dr. Vaidya are meticulously crafted to maximize bioavailability of key ingredients without adding chemically derived or synthetic products.
As a startup with a legacy to preserve, Dr. Vaidya's is not focused solely on market expansion, but on increasing the satisfaction and wellbeing of its most loyal customers. At Dr. Vaidya's, your health matters, and so does your opinion. To this end, consumer feedback is regarded as a valuable resource along with current research to formulate and update products routinely. We believe that consumer wellbeing is critical to our success and we endeavor to create the best products to promote natural health and wellness.
Read more
Highlights
Helps to boost female desire, stamina and performance.
Description
Dr. Vaidyas Cycloherb is a combination of 32 herbs that balances the hormone levels in women and thus helps regulate the menstrual cycle. The product is used to reduce the pain of menstrual cramps, control hormonal imbalances and reduce the level of hyperacidity caused by menstruation. The product is also known to be a uterine tonic and helpful in vaginal as well as urinary tract problems
Read more
Specification
Country of Origin :
India
15 days Return Policy, free Shipping...Know more