Dr. Vaidya's Herbobliss- Female Sexual Wellness Is Out Of Stock.
This product is out of stock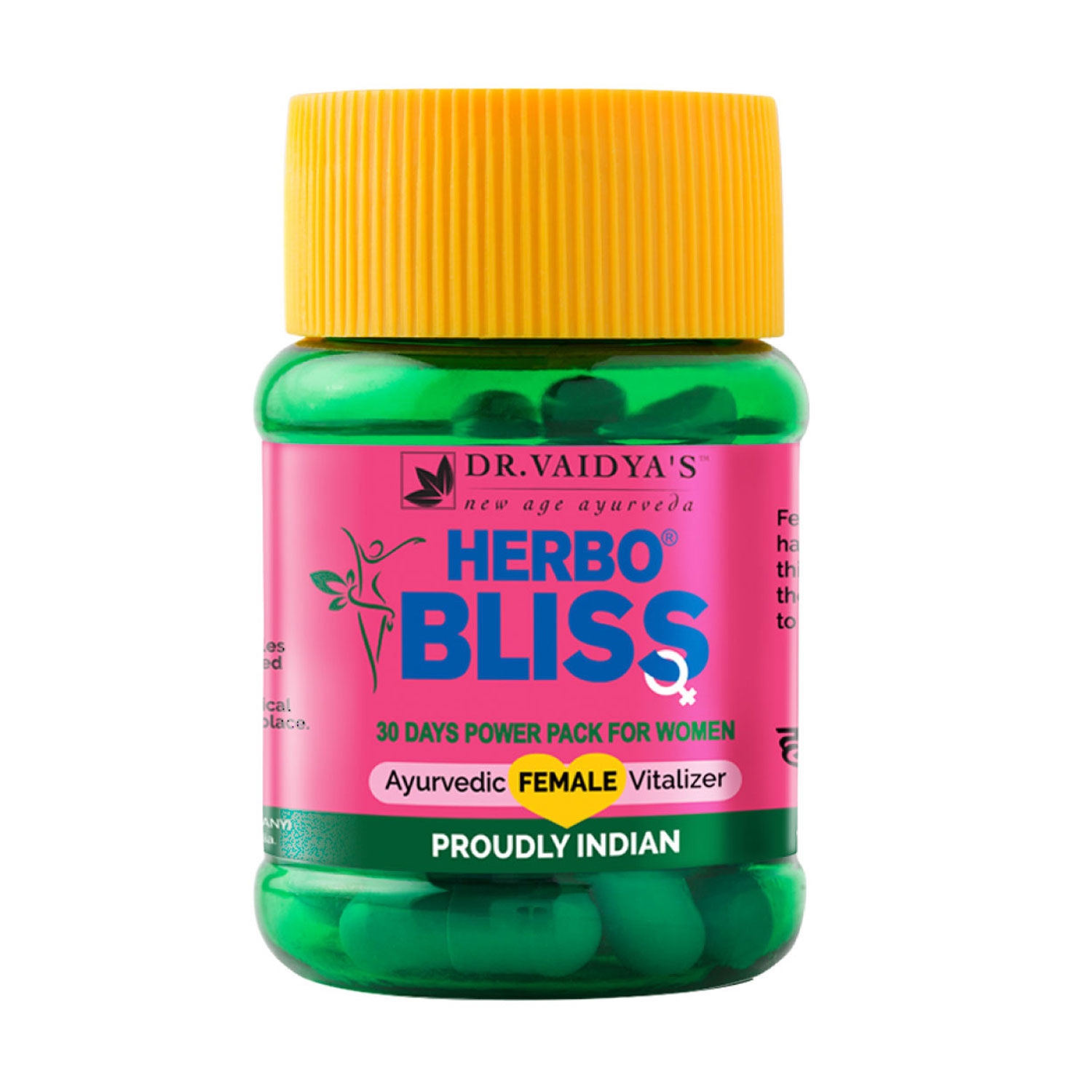 Dr. Vaidya's Herbobliss- Female Sexual Wellness
+INFO
Be the first to review

100% Genuine Products

Return 15 Days
Description
From the Manufacturers
Herbobliss is a natural supplement that supports female vitality, libido, and healthy sexual function. Made from a proprietary blend of 100% natural herbal ingredients, this supplement has been carefully formulated to better regulate hormonal levels, preserving the optimal balance of female sex hormones estrogen and progesterone. Herbobliss contains extracts from more than 10 different Ayurvedic herbs, including Jayphal, Javantri, Jyeshthimadhu, Taj, Safed Musli, and Banslochan. With anti-androgenic, aphrodisiac, immunomodulatory, and adaptogenic properties, the polyherbal formula has a positive influence on female libido, sex drive, performance, and fertility for a more satisfying and fulfilling sex life.
As a 100% natural product that contains a precise blend of herbs, Herbobliss takes a holistic approach to women's wellness, not just supporting sexual function, but also supporting general health and wellbeing. After all, hormonal imbalances have become increasingly common as a result of modern lifestyle choices and also arise as a result of the aging process and menopause. As female sex hormones play a vital role in reproductive health, appetite, sleep, and growth, such imbalances can affect every aspect of health. This makes Herbobliss the best Ayurvedic medicine for women's general health. Free from chemicals and other artificial ingredients, the natural supplement poses no known risk of side effects when used as per the dosage recommendations. To get the best results, Herbobliss capsules must be consumed daily for a period of at least 3 months.
Ingredient/Product Benefits
Jyesthimadhu is an important herb for women's health in Ayurveda with a high content of phytoestrogens and other therapeutic properties. Studies show that the herb has estrogenic properties that can help relieve a wide range of sexual and health disorders in women that are connected to hormonal imbalances.
Safed musli is highly regarded in Ayurveda for its aphrodisiac, which have also been supported by modern studies. The herb has been shown to improve libido, vigor, and arousal, but is also noted for its immunomodulatory and anticancer activities.
Jayphal is often used to boost libido levels naturally and research shows that this effect is a result of its natural power as a nervine tonic. It exhibits a nervous stimulating property that improves sexual responses, sex drive, and arousal.
Banslochan is an organic substance that is extracted from certain species of bamboos and is known to possess therapeutic properties. The ingredient can help to boost female libido and also helps in the treatment of a variety of gynecological disorders.
Herbobliss is made exclusively from natural ingredients, containing 17 herbal extracts, including herbs such as jayphal, jyesthimadhu, kapur kachli nirbhishi, banslochan, lavang, and javantri, among others. It does not contain any chemicals or artificial flavoring and coloring ingredients.
Tested for Quality & Efficacy
Herbobliss is made using premium ingredients that are stringently tested for quality, efficacy, and safety. Based on intensive research, the blend of herbs has been carefully formulated to maximize the efficacy of its active natural ingredients.
Daily recommended dosage is 1 capsule a day
Best consumed with a glass of milk or water just before bedtime
Should be consumed daily for a period of at least 3 months to see visible results
With a heritage dating back 150 years, Dr. Vaidya's has been at the forefront of the modern Ayurvedic revolution, making age old formulations more accessible and suitable for modern day users. Dr. Vaidya's is a household name with a strong reputation for quality thanks to its high standards of research, testing, and quality control.
The brand focus is on providing consumers with clinically proven natural Ayurvedic products to support everyday health and wellness. Their loyal following of customers has been cultivated through a commitment to excellence, with a reputation for creating effective formulations that only use high quality natural ingredients. Polyherbal formulations produced by Dr. Vaidya are meticulously crafted to maximize bioavailability of key ingredients without adding chemically derived or synthetic products.
As a startup with a legacy to preserve, Dr. Vaidya's is not focused solely on market expansion, but on increasing the satisfaction and wellbeing of its most loyal customers. At Dr. Vaidya's, your health matters, and so does your opinion. To this end, consumer feedback is regarded as a valuable resource along with current research to formulate and update products routinely. We believe that consumer wellbeing is critical to our success and we endeavor to create the best products to promote natural health and wellness.
Read more
Highlights
Helps to boost female desire, stamina and performance.
Description
Female power and performance tends to fluctuate with time and age. It is a common fact but most products are focused on men. With Dr. Vaidyasnew age Ayurveda approach comes Herbobliss Ayurvedic Female Vitalizer. A one-of-a-kind proprietary formulation with 17 synergized herbal ingredients. The product is very effective in boosting female desire, stamina and performance
Read more
Specification
Country of Origin :
India
15 days Return Policy, free Shipping...Know more