Dr. Vaidya's Herbodanty Powder Pack of 2 - Natural Tooth Powder Is Out Of Stock.
This product is out of stock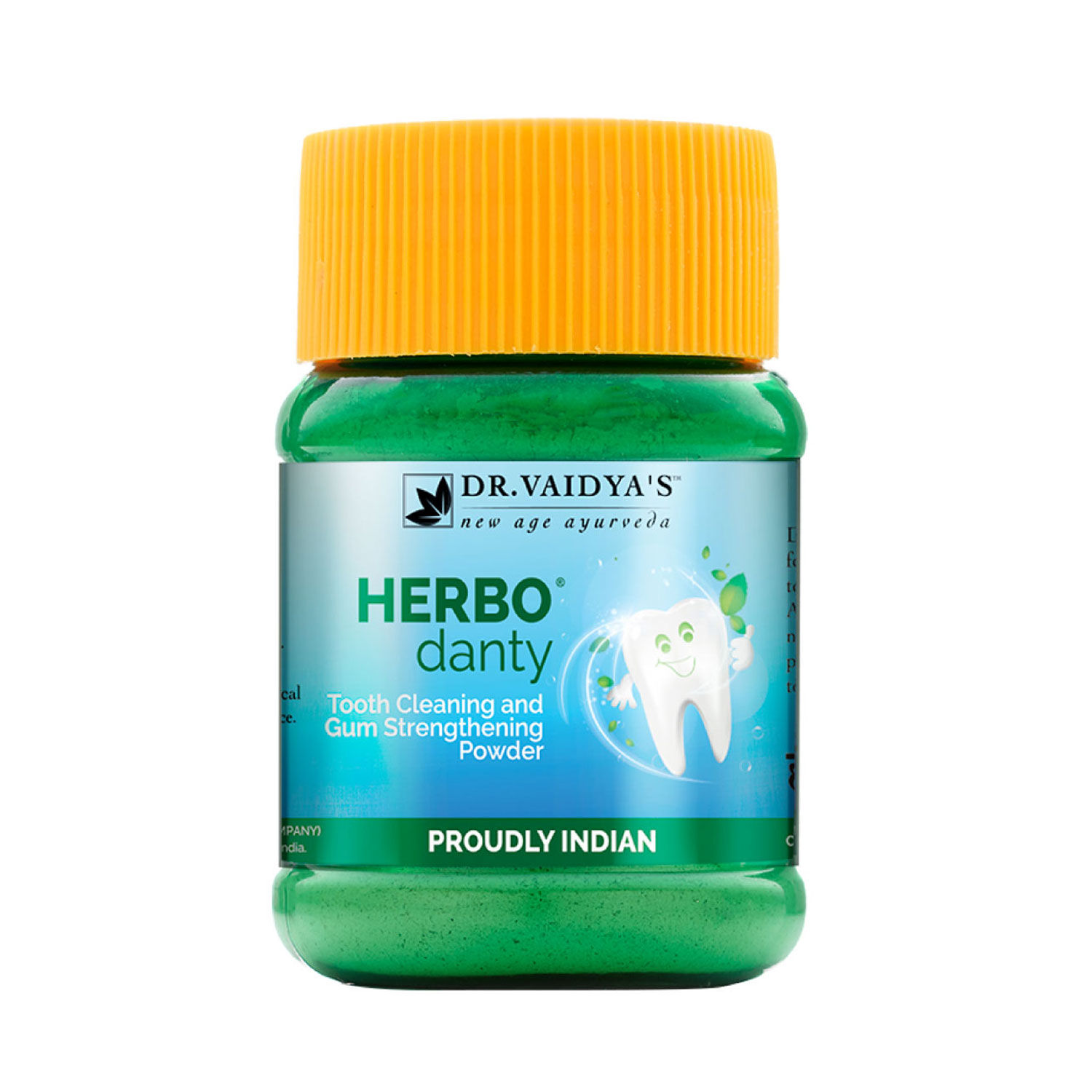 Dr. Vaidya's Herbodanty Powder Pack of 2 - Natural Tooth Powder
+INFO
Be the first to review

100% Genuine Products

Return 15 Days
Description
From the Manufacturers
Dr. Vaidya's Herbodanty is a natural tooth cleaning and gum strengthening powder that supports oral hygiene. It works as a powerful natural cleanser for the teeth and gums, protecting against plaque build-up, which can lead to tooth decay and cavities, as well as gingival diseases and halitosis or bad breath. Herbodanty is made from purely natural ingredients and contains extracts from the most potent herbs like katha, kantalu maiju, lavang, and menthol, which have proven antimicrobial, anti-inflammatory, and analgesic properties. Through these therapeutic properties the blend of herbs protects against dental caries and periodontal pathogens, offering greater protection against common oral diseases than most conventional toothpastes.
Herbodanty is a modern Ayurvedic formulation that is based on age old Ayurvedic wisdom and modern research. Dental diseases are poorly managed with most conventional oral hygiene practices and the cost of treatment for dental diseases can be extremely high. Herbal extracts are valuable in dental care for their antiseptic, antioxidant, antimicrobial, antifungal, antibacterial, and analgesic properties, while they do not expose you to the risk of any toxicity. As Herbodanty is made solely from natural ingredients and does not contain any chemicals it is a safer and healthy alternative to cosmetic or pharmaceutical toothpastes and mouthwashes that contain harsh chemicals. To maximize dental protection with Herbodanty, the product should be used at least twice a day for a minimum duration of 1 month.
Ingredient/Product Benefits
Katha is an important medicinal herb in Ayurveda that is extremely effective in protecting against dental diseases. It has proven antipaque and antigingivitis properties and research suggests that it may also exert cytotoxic activity, which can help fight cancer.
One of the most highly valued ingredients in Ayurveda, lavang is now also used in conventional medicine to manage dental disease. The therapeutic power of lavang is linked to a bioactive compound called eugenol, which exhibits a broad spectrum of antibacterial activity, inhibiting common strains of oral bacteria. It is also noted for its anti-inflammatory and analgesic effects.
Menthol is another ingredient that is now widely used in conventional oral care products, but it is best used in a more natural form. It is known for its analgesic effects and may also enhance protection against some types of dental disease.
Herbodanty has been designed to keep in mind the needs of an increasingly health conscious population with a preference for natural products to maintain health. The dental powder contains no added synthetic ingredients and only includes natural ingredients and herbal extracts like katha, kantalu maiju, lavang, and menthol.
Tested for Quality & Efficacy
Herbodanty is made using high quality herbal ingredients to maintain product efficacy and safety. Stringent testing and quality control practices are also used to formulate the herbal blend so as to increase the bioavailability of organic compounds in the herbs.
Herbodanty may be used as desired but for best results should be used for brushing at least twice a day
To see visible improvements in dental health the Herbodanty should be used for a minimum duration of 1 month
With a heritage dating back 150 years, Dr. Vaidya's has been at the forefront of the modern Ayurvedic revolution, making age old formulations more accessible and suitable for modern day users. Dr. Vaidya's is a household name with a strong reputation for quality thanks to its high standards of research, testing, and quality control. Thanks to its pioneering efforts in the modern Ayurvedic space, Dr. Vaidya's became the first Ayurveda brand to be featured in the Forbes 30 Under 30 Asia List.
The brand focus is on providing consumers with clinically proven natural Ayurvedic products to support everyday health and wellness. Their loyal following of customers has been cultivated through a commitment to excellence, with a reputation for creating effective formulations that only use high quality natural ingredients. Polyherbal formulations produced by Dr. Vaidya are meticulously crafted to maximize bioavailability of key ingredients without adding chemically derived or synthetic products.
As a startup with a legacy to preserve, Dr. Vaidya's is not focused solely on market expansion, but on increasing the satisfaction and wellbeing of its most loyal customers. At Dr. Vaidya's, your health matters, and so does your opinion. To this end, consumer feedback is regarded as a valuable resource along with current research to formulate and update products routinely. We believe that consumer wellbeing is critical to our success and we endeavor to create the best products to promote natural health and wellness.
Read more
Highlights
Tooth powder for Strengthening Teeth and Gums
Description
Herbodanty combines the healing properties of 10 herbs to strengthen teeth and gums.This tooth powder is an Ayurvedic replacement to toothpaste that is completely natural, fluoride free and sugar/ salt free. It prevents bleeding gums, tartar formation, yellowness and tooth decay
Read more
Specification
Country of Origin :
India
15 days Return Policy, free Shipping...Know more