Kent Real Beechwood Narrow Combing & Taming Hand Bag Brush PF21 Is Out Of Stock.
This product is out of stock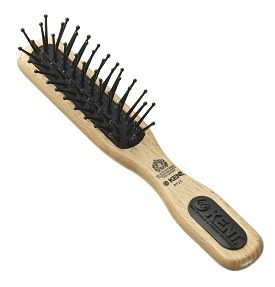 Kent Real Beechwood Narrow Combing & Taming Hand Bag Brush PF21
+INFO
Be the first to review

100% Genuine Products

Return 15 Days
Description
Highlights
With a wealth of experience acquired from over 230 years of brush, manufacturing, Kent are confident that they have the most complete, and effective hair brush collection in the world. Kent continually, provides new ranges to meet the insatiable appetite of the hair industry, whilst Kent craftsmen and women continue to use their expertise making, our famous traditional bristle brushes. The humble hair brush takes on a new status, when it is a Kent brush; something to be desired, enjoyed and coveted. Hair brushes, from the past but very much part of the future. Combining finest timbers, carefully, selected bristle, and innovative materials to meet the demanding needs of a modern, world, Kent offers a range that encapsulates all that is important for looking after hair, and body. Our Royal Warrant is testimony to our quality and serves as a proud, endorsement of all that is best in British brush making, KS Kent Style is a comprehensive range of brushes used to create salon professional styles. Radials, hot curls, vents, and paddle designs all with a definitive gloss black and chrome finish come in a huge choice of sizes. They perform endlessly without catching or damaging hair. Rubber grips provide comfort and the streamline, radial handle ensures a successful blow drying technique.
Ideal For
All Hair Types
Description
In the Box
Sales Package
Hair Brush

Product Details
Model Name
Kent Real Beechwood Narrow Combing & Taming Hand Bag Brush PF21
Color
Wood Black
Brand
Kent

Brush Traits
Ideal For
Unisex
Brush Type
Cushioned Paddle Brush
Bristle Type
Phine-Pin Bristles
Read more
Specification
Hair Type :
All Hair Types
15 days Return Policy, free Shipping...Know more