Merit VCO Extra Virgin Coconut Oil (250 ml) (Pack of 2)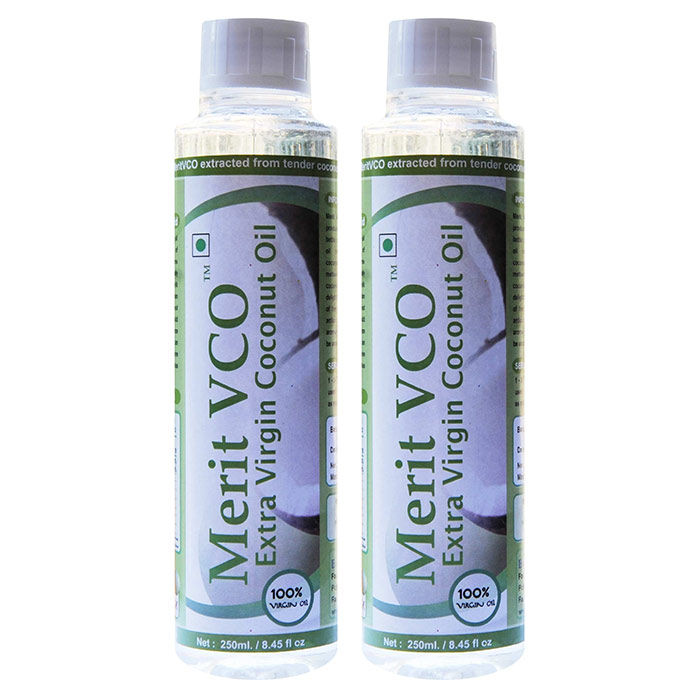 Merit VCO Extra Virgin Coconut Oil (250 ml) (Pack of 2)
+INFO
Be the first to review

100% Genuine Products

Return 15 Days
Description
Highlights
A daily & dose of one tablespoons of VCO & will also benefit healthy individuals by strengthening the immune system. A daily dose of one tablespoons of VCO will also benefit healthy individuals by strengthening the immune system
Ideal For
All Hair Types

Dryness
Benefits
Moisturizing

Smoothening

Softening

Sun Protection
Details
VCO is good for Eczema, Skin Care, and stretch marks, it helps cure benign prostatic hyperplasia (BPH) and ulcers.
Normalizes body lipids, protects the liver, pancreas and digestive system, and improves immune system's anti-inflammatory response.
Virgin coconut oil contains medium chain fatty acids that boost the metabolic process in the body.
Ingesting Virgin coconut oil can improve metabolism that enhances cell and hormonal functions.
Coconut oil on the face helps melt the bacteria clogged up in pores.
VCO also strengthens the skin by holding your skin tissue together and protects the skin from harmful UV rays of the sun.
Beneficial in treating eczema and psoriasis.
Description
Merit VCO Extra virgin coconut oil (EVCO) has a myriad of health benefits.
When eaten, it can help regulate blood sugar, fight heart disease, speed up weight loss, and improve the immune system.
Used topically, it can dramatically recover the condition of both skin and hair, preventing wrinkles and making your tresses stronger and shinier.One of the best things about coconut oil benefits is the fact that it eradicates the need for some of the most toxic, potentially harmful and drying "beauty" concoctions out there on the market.
Look on the back of any one of your shampoo or conditioner bottles and you will almost without fail find alcohol of some sort or another as one of the main ingredients.
How does adding alcohol to a product that is supposed to moisturize hydrate anything?Another common culprit in most beauty products is petroleum- despite being a known carcinogen that potentially causes cancer, it's in almost everything.
Seriously, it's in almosteverything; toothpaste, makeup, lotions, deodorant, clothing, foods…Merit VCO is a natural and effective way to lessen your exposure to toxins without having to sacrifice any superficial benefits of a beauty routine.It is important to choose a product that is cold pressed, unrefined, organic, and basically as minimally processed as possible.
I highly recommend Merit VCO extra virgin coconut oil as it is as minimally processed as possible and also has no trans or hydrogenated fats.It is extracted from coconut milk
Read more
Specification
Hair Type :
All Hair Types
Speciality :
Chemical Free
Active Ingredients :
Coconut Oil
Benefits :
Moisturizing, Smoothening, Softening, Sun Protection
15 days Return Policy, free Shipping...Know more