Mond'Sub One Week Mask Series 6 In 1 Face Mask Sheet Pack Of 6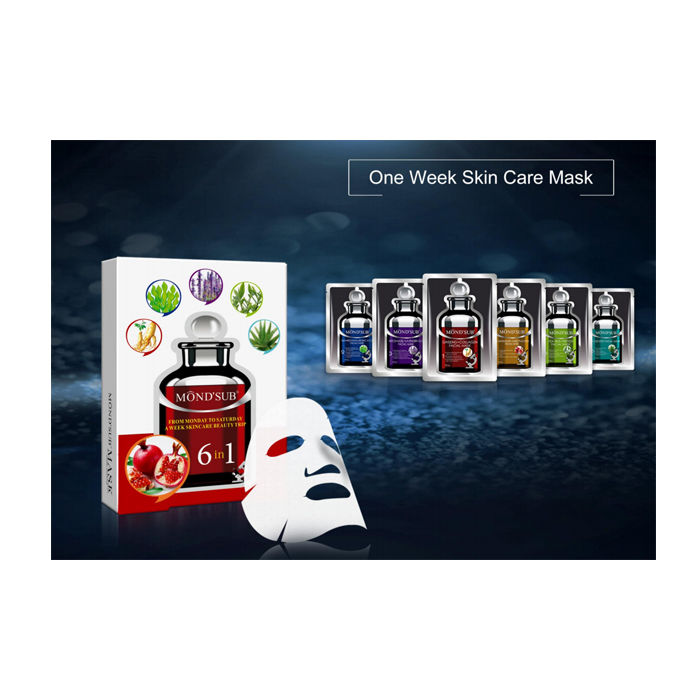 Mond'Sub One Week Mask Series 6 In 1 Face Mask Sheet Pack Of 6
+INFO
Be the first to review

100% Genuine Products

Return 15 Days
Description
Highlights
Relax and enjoy your new, revitalized complexion with Mond'Sub One Week Mask Series.
Ideal For
All Skin Types

Sagging Skin

Inflamed Skin

Skin Impurities

Acne
Benefits
Refreshing

Radiant Skin

Skin Cell Regeneration

Moisturizing

Maintains Elasticity

Hydrating

Repairs Skin

Purifying

Soothing

Fits Well
Description
Ginseng + Collagen Facial Mask: By combining Ginseng & Collagen this mask increases the elasticity & vitality of the skin, strengthening its resistance to the harmful outside elements.
Seaweed + Hyaluronic Acid Facial Mask: Moisture is essential to a healthier looking skin.
With the double effect of Seaweed Extract and Hyaluronic Acid this mask will have a super-hydrating effect, locking moisture into the skin and giving a more youthful look.
Witch Hazel + lavender+Q10 Facial Mask: With extracts of Witch Hazel, Lavender and Q10, this mask tones & refreshes the skin.
By purifying the pores of the skin it helps to avoid pimples & acne caused by pore inflammation.
Tea Tree + Peptide Facial Mask: Extract of Tea Tree and Peptide can help nourish the skin, balance oil secretion and repair skin problems.
This mask will leave you feeling fully refreshed after your treatment.
Pomegranate + Sheep Placenta Facial Mask: This mask acts as a powerful anti-oxidant and nutrient supplement to the skin.
It will help your skin to recover from the stresses of everyday life and helps to keep your skin looking healthy.
Aloe Vera + EGF Facial Mask: EGF (Epidermal Growth Factor) promotes healthy cell growth, which shortens the skin cell renewal process - transforming aged skin cells into youthful, vibrant skin cells.
With the added benefits of soothing aloe, this mask is the perfect end to the week.
Day 7 - Relax and enjoy your new, revitalized complexion!"
Read more
Specification
Skin Concern :
Acne, Inflamed Skin, Sagging Skin, Skin Impurities
Skin Type :
All Skin Types
Active Ingredients :
Aloe Vera, Aloe Vera Oil, Ginseng, Hyaluronic Acid, Hyaluronic Acid Derivate, Lavende Oil, Lavender, Lavender Oil, Peptides, Pomegranate, Pomegranate Extract, Seaweed Complex, Seaweed Extract, Tea Tree, Tea Tree Oil, Witch Hazel
Product Format :
Sheet Mask
Benefits :
Fits Well, Hydrating, Maintains Elasticity, Moisturizing, Purifying, Radiant Skin, Refreshing, Repairs Skin, Skin Cell Regeneration, Soothing
Country of Origin :
India,PRC
15 days Return Policy, free Shipping...Know more