Nova Professional Hair Clipper NHC-2011 (3 IN 1) Is Out Of Stock.
This product is out of stock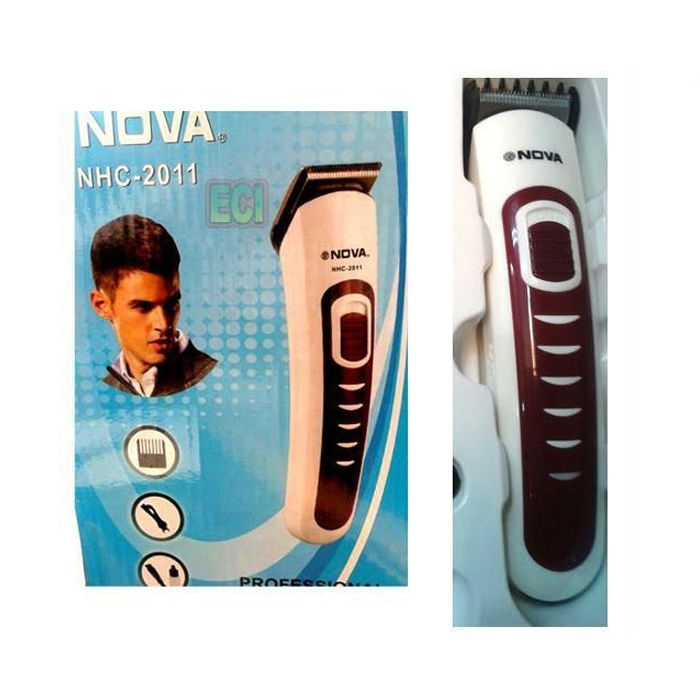 Nova Professional Hair Clipper NHC-2011 (3 IN 1)
+INFO
Be the first to review

100% Genuine Products

Return 15 Days
Description
Highlights
Nova NHC2011 Rechargeable Hair Trimmer Clipper for Hair, Moustache and beard hair trimming.High-efficient charging battery inside.Convenient to operate.Stainless Steel Pecision Cutting Blade.
Description
Do you know that shaving with normal razors or even with normal electric shavers due to their extra close shaving property our facial skin also gets damaged and eventually our skin starts becoming red, green and dark but if you use this trimmer for shaving it will only cut the shave hair and not peel and harm your facial skin, Though it is a hair clipper / Trimmer, but due to its very fine blades if used without spacer comb directly on facial skin can perfectly be used as a gents electric shaver, while using it as a shaver use it opposite to hair growth direction for best close shaving results still being very gentle on your facial skin.
When you use it for shaving no need to put powder or shaving foam or wet the face whereas you have to use it directly on face as it is.
Once you start using it for shaving you will love using it so much becase you will get rid of that skin irritation that you get when you use your normal shaving razor so you are going to quit using your normal razor shaver.Also 100% safe and suitable for use by ladies and gents for removing hair form private parts of body for a perfect personal hygiene.Durable sharp razor.Built in high performance rechargeable battery.High cutting performance.Micro-processor regulated cutting speeds.Precision steel blade to ensure constant and precise cutting.Sharp Blade Endurance.Excellent for sculpting Side Burns, Moustaches, Beards in different styles.Cordless Operation.Stainless Steel Pecision Cutting Blade.Ergonomical Body design.Non Slip Handle.Used Wirelessly, Convenient To Operate.High-Efficient Charging Battery Inside.45 Minutes Continuously use after Charging.Put It On The Charging Socket After Using, The Indicator Light Will Show.Charging Time: 12hour.Input:110-220V 50-hz /60hz 3wContents of the Box :-1 Rechargeable Trimmer,1 Charging Cable,1 Attachment to trim hair,1 lubricating blade Oil,1 Manual,1 cleaning Brush.
Read more
15 days Return Policy, free Shipping...Know more