Nutroactive Lipolyzer Meal Replacement (454 g) Low Carb Shake With Free 15 Days Diet Plan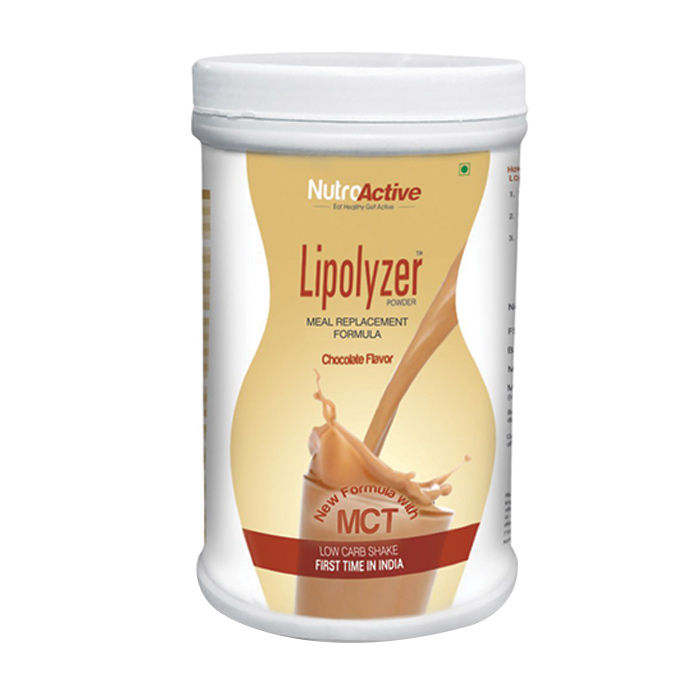 Nutroactive Lipolyzer Meal Replacement (454 g) Low Carb Shake With Free 15 Days Diet Plan
+INFO
Be the first to review

100% Genuine Products

Return 15 Days
Description
Highlights
There are 3 major nutritional components of food - fat protein and carbohydrate. Fat and protein is used for repair and building of body cells whereas carbohydrate is just a source of energy. Nothing in our body is made up of carbohydrate. Excess carbohydrate consumed gets converted into fat and stored in fat cells. Continuous consumption of extra carbohydrates leads to obesity and diseases. The best method to lose weight is to reduce intake of carbohydrate in diet, this triggers fat burning process in our body within 2-3 days and body turns into fat burning machine. We don't need to follow low calorie diet. We can lose weight with same amount of calorie consumption provided the intake of carbohydrate is reduced. Lipolyzer Low Carb Shake is a readymade formula specially designed to lose weight. It provides 37 different nutrients including "LIPOTROPIC AGENTS AND HEALTHY FAT MCT". Replace any meal with Lipolyzer Low Carb Shake preferably dinner to start losing weight. You may replace upto 2 meals a day. Replacing meal with readymade formulation is safe as they are used from last 75 years. Readymade formulas are also used by astronauts for long survival in space.
Description
Replacing one or two meal with Lipolyzer Shake help trigger fat burning without exercise.
Free telephonic consultancy regarding the Product and Diet; you may call our Nutritionist before and after purchase @ 0124-4924821 or 09310585862 (whatsapp) between 10 am to 6 pm.Lipolyzer Shake contains MCT oil from Coconut which generates ketone bodies which stimulate fat burning process in the body which further gets encouraged by low carbohydrate diet.
Follow a Low Crabohydrate Diet along with Lipoyzer Shake for eg.
Avoid Grains, Pulses and sugar for best Weight Loss results.
People who cannot exercise due to old age, surgery, knee pain, joint pain or any other condition will find Lipolyzer powder very convenient and effective.Lipolyzer powder contains MCT, is low in carb and high in fat.
It helps you in following Ketogenic Diet.
Hence Lipolyzer shake is better than fasting for losing weight.Lipolyzer powder is a combination of coconut milk powder, whole milk powder, whey protein, chocolate, all the tasty and healthy nutrient for kids.
Read more
15 days Return Policy, free Shipping...Know more