Pond's Skincare Kit Is Out Of Stock.
This product is out of stock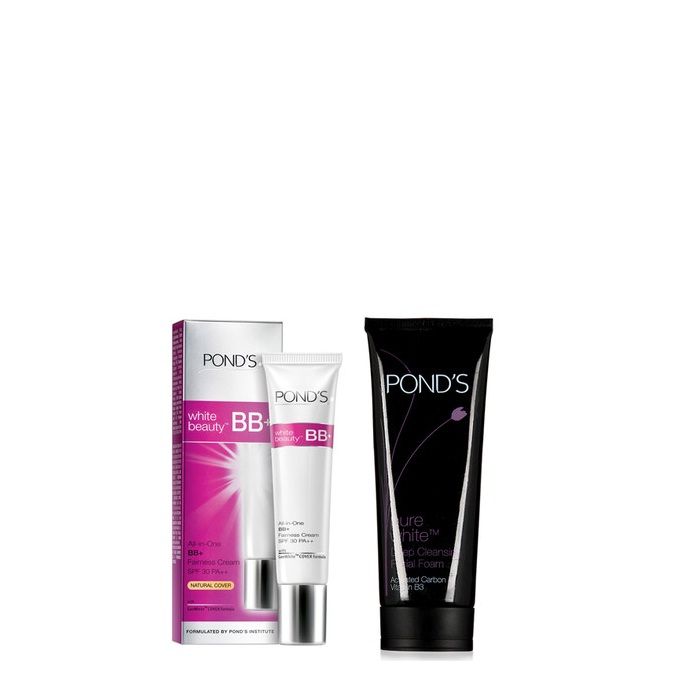 Be the first to review

100% Genuine Products

Return 15 Days
Description
Highlights
Ponds Skincare Kit contains Ponds BB Cream (50 g) and Ponds Pure White Deep Cleansing Facial Foam (100 g)
Description
Ponds White Beauty All-in-One BB+ Fairness Cream (50 g): With the Ponda€™s Institutea€™s dual-acting sophisticated skin lightening GenWhite Cover Formula and SPF 30 PA++ advanced sunscreen protection, Ponda€™s White Beauty BB+ Fairness Cream not only improves skin texture and effectively lightens skin from within but also provides Natural looking instant glow for Indian skin, clinically proven to lighten skin tone and reduce dark spots, GenWhite Formula is enriched with a powerful mix of Vitamin B3, Vitamin E, Allantoin and advanced superior sunscreen protection.Vitamin B3 - Ponda€™s signature ingredient, helps to reduce and control melanin accumulation on the skin, Vitamin E a€" A potent fat soluble anti-oxidant to neutralize the harmful effects of free radicals which can trigger melanin production which leads to darker skin.
Allantoin a€" Recognized as an anti-inflammatory by US FDA found in the comfrey plant and helps to reduce processes that can lead to increased pigmentation, advanced Superior Sunscreen Protection SPF 30 PA++ SPF 30 PA++ - Helps to protect against skin tanning and photo ageing.
Ponds Pure White Deep Cleansing Facial Foam (100g): Is formulated with activated carbon that helps absorb and lift away 'black' dirt and impurities caused by dirt, oil and makeup from the skin surface and deep within pores, helping to reduce the causes of blemish.
It is first of its kind to be formulated with activated carbon, which works with black attracts black'.
Carbon when heated or activated becomes 8x porous; hence increasing its ability to detoxify and gently exfoliate dead skin cells while retaining needed moisture, this facial foam is suitable for all skin types.
Read more
15 days Return Policy, free Shipping...Know more