Spantra 4 in 1 Fairness Insta Facial includes Cleanser, Scrub, Massage,and Mask, 500g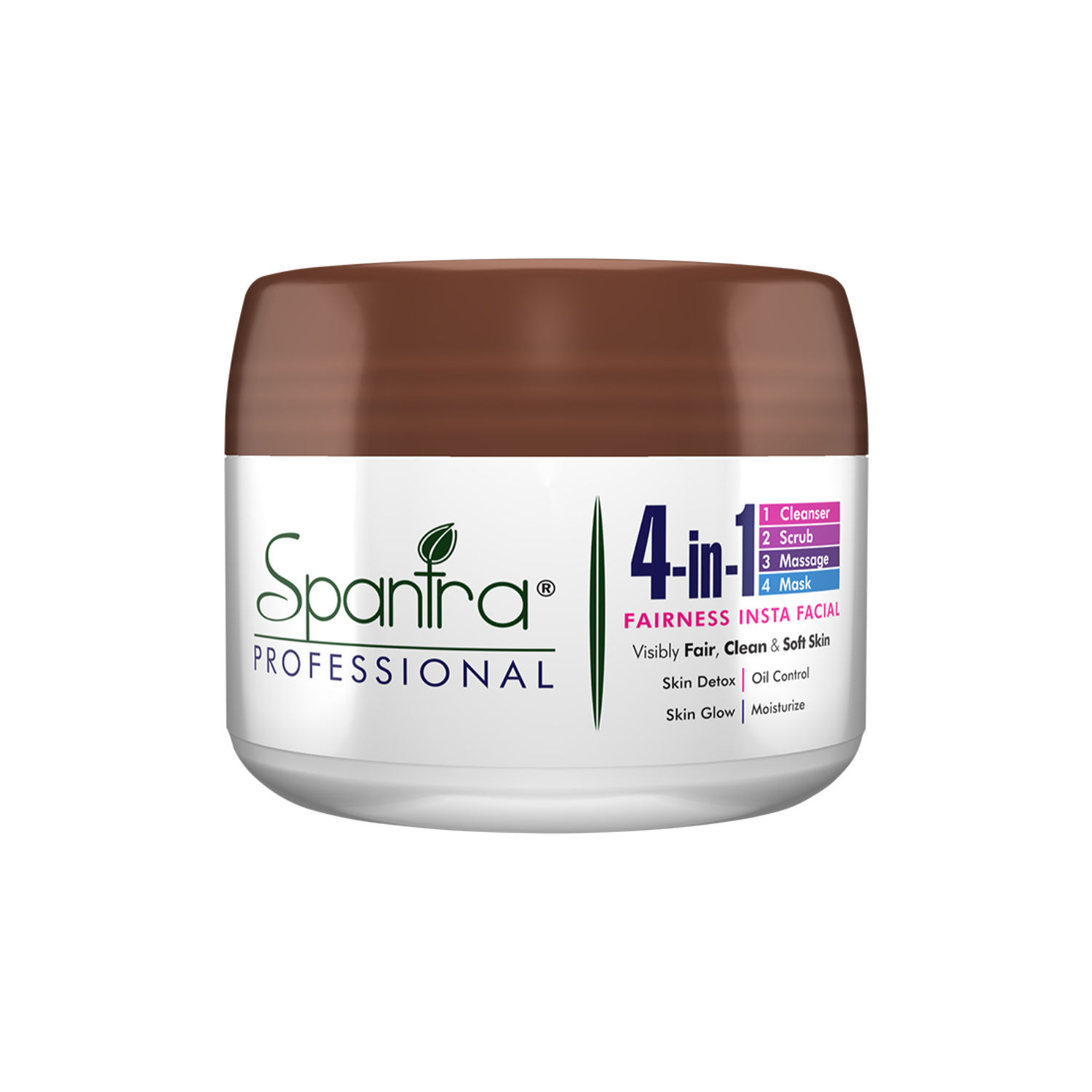 Spantra 4 in 1 Fairness Insta Facial includes Cleanser, Scrub, Massage,and Mask, 500g
+INFO
Be the first to review
Sold By: Glide Route Ventures LLP - MUM.Sold By: Glide Route Ventures LLP - MUM. Address: Gala No 318/319, Mahesh Industrial Estate, Mira Bhayandar Rd, Hatkesh Udhog Nagar, Mira Road, Mira Bhayandar, Maharashtra 401107
Email ID: ekta.glideroute@gmail.com

Fulfilled by Purplle indicates that the products will be checked and fulfilled by Purplle's fulfillment service. The seller will be responsible for the product's quality.

100% Genuine Products

Return 15 Days
Description
Highlights
Formulated to make skin pure and moisturize. Avoid that harsh dried out face with non-drying formula, hydrating organic Aloe Vera does the heavy lifting to preserve your skin moisturize, walnut scrub for exfoliating and unclogging pores, it contains Kojic acid which helps treat many pigmentation problems besides freckles and melasma, Liquorice extract is very common skin lightening agent. It also helps to clarify and tightens pores. Its unique formulation ensures ease of application, faster absorption, and better nourishment to the skin. Soft on touch Skin feels fresh, moisturized, and clean Instant fair and glowing skin.
Ideal For
All Skin Types

Skin Impurities

Dirt & Impurities

blemishes

Clogged Pores
Benefits
Purifying

Detoxifying

Skin Brightening

Skin Cleansing

Moisturizing

unclog pores
Description
Spantra 4 in 1 Fairness Facial helps in skin lightening and removes dark spots and blemishes, keeping your skin smooth and healthy.
The product is light and not greasy, and blends easily with the skin with a light massage.
The product is natural and does not contain any chemicals, preservatives, or artificial additives.
It is thus suitable for all skin types.
This Facial helps in reducing dark spots and blemishes.
It helps is making the skin smooth and radiant.
It is an ayurvedic product with natural extracts from plant stems and leaves.
It contains pure virgin coconut, Vitamin C, Vitamin E and Vitamin B3.This cream is suitable for all skin types, and can be used by men and women.It's a safe and madewith effective natural ingredients formula that lightens & brightens the skin tone by removing any dead cells from the surface of the skin and stopping regeneration of any new pigmentation cells.
This Facial helps in skin lightening and removes dark spots and blemishes, keeping your skin smooth and healthy.
The product is light and not greasy, and blends easily with the skin with a light massage.
The product is natural and does not contain any chemicals, preservatives, or artificial additives.
It is thus suitable for all skin types.
This Facial helps in reducing dark spots and blemishes.
It helps is making the skin smooth and radiant.
It is an ayurvedic product with natural extracts from plant stems and leaves.
It contains pure virgin coconut, Vitamin C, Vitamin E and Vitamin B3.This cream is suitable for all skin types, and can be used by men and women.It's a safe and madewith effective natural ingredients formula that lightens & brightens the skin tone by removing any dead cells from the surface of the skin and stopping regeneration of any new pigmentation cells.
It contains Kojic acid which helps treat many pigmentation problems besides freckles and melisma, Liquoric extract is very common skin lightening agent.
It also helps to clarify and tightens pores.
The product is light and not greasy, and blends easily with the skin with a light massage.
This Fairness Insta Facial Suitables for every Skin types including Dry, Sensitive and oily.
All Skin Type
Read more
Specification
Skin Concern :
blemishes, Clogged Pores, Dirt & Impurities, Skin Impurities
Skin Type :
All Skin Types
Speciality :
100% Natural, Chemical Free, No artificial preservatives
Active Ingredients :
Aloe Vera, Kojic Acid, Licorice Root Extract, Multani Mitti, Vitamin A, Vitamin B3, Vitamin C, Vitamin E
Benefits :
Detoxifying , Moisturizing, Purifying, Skin Brightening, Skin Cleansing, unclog pores
Country of Origin :
India
Best Before : 31 Jul 2024
15 days Return Policy, free Shipping...Know more