Tangle Teezer Salon Elite Detangling Brush Candyfloss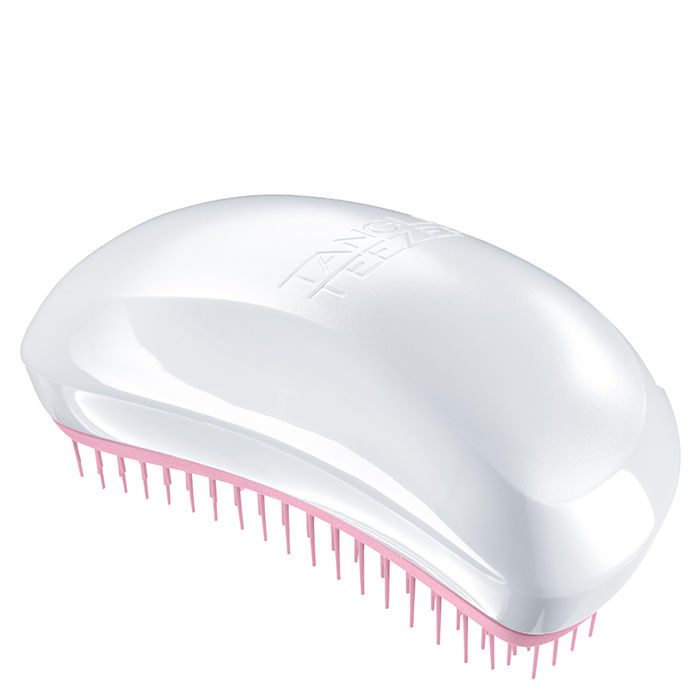 Tangle Teezer Salon Elite Detangling Brush Candyfloss
+INFO
Be the first to review

100% Genuine Products

Return 15 Days
Description
From the Manufacturers
"We sell more of this brush than almost any other product in the salon!"

-Tracey Cunningham, Meche Salon, Beverly Hills Celebrity Colorist for Drew Barrymore, Cameron Diaz, Jessica Biel, and Jennifer Lopez.
PERFECT PREENING

Hair heaven for extension and weave wearers. Helps reduce matting and knotting around bonds.
HOT TIPS
Detangles wet and dry hair with no pulling, tugging or dragging.
Ergonomic design makes it easy on wrist and joints, and speeds up the pace.
Use it to brush through sectioned-off hair before blow-drying
Enhances the performance of heat-styling hairbrushes.
After flat ironing, two or three slow brush strokes through each section as it cools will help hair remain straighter longer.
Reduces hair loss caused by conventional brushes.
Reduces matting and bonding around hair extension bonds.
Makes backcombing a breeze. Produces compact backcombed foundations that stay put.
SALON ELITE
The Detangling Brush and Styling Brush! Detangles and styles rapidly, while treating hair with TLC. This pro brush contours the head and produces a perfect brushstroke, root to tip.
Patented
Teeth
designed to flex over
tangles without pulling
or snagging
centralised
concave
design

delivers firm, salon style
brushstrokes from roots
to ends by contouring
to the head
Strategic
Teeth
Spacing
helps reduce matting and
knotting around extension
and weave bonds. less
hair ends up in the brush.
Read more
Highlights
Tangle Teezer Salon Elite Detangling Brush Candyfloss is that which detangles and styles rapidly, while treating hair with TLC.
Description
Tangle Teezer is the world's best brand of detangling brushes. Being proud owners of 29 patents and countless trade marks across the world, we make nothing but the very best in our factories in Great Britain. Only in GREAT BRITAIN. With over 6 million brushes sold, Tangle Teezer is the benchmark in detangling brushes around the world. The brush was invented by Shaun P, a Sassoon trained hairdresser, who was always the go-to guy at his salon for getting tangles out of clients' hair. No wonder, today, Tangle Teezers are the solution for detangling any type of hair around the world.The Salon Elite Series of Tangle Teezer is the The Detangling Brush and Styling Brush that detangles and styles rapidly, while treating hair with TLC. This pro brush contours the head and produces a perfect brushstroke, root to tip. Salon Elite gives professional results in the palm of your hand. Detangling wet and dry hair without any tugs or pulls, it has an innovative centralised concave design that delivers firm, salon style brushstrokes from roots to ends. Perfect to pick-up-your-preening pace! The most special features of the brush are: • Detangles wet and dry hair with no pulling, tugging or dragging • Ergonomic design makes it easy on wrist and joints, and speeds up the pace • Use it to brush through sectioned-off hair before blow-dryin • Enhances the performance of heat-styling hairbrushes • After flat ironing, two or three slow brush strokes through each section as it cools will help hair remain straighter longer • Reduces hair loss caused by conventional brushes • Reduces matting and bonding around hair extension bonds • Makes backcombing a breeze. Produces compact backcombed foundations that stay put
Read more
15 days Return Policy, free Shipping...Know more