The Moms Co. 24 Hour Skincare Starter Kit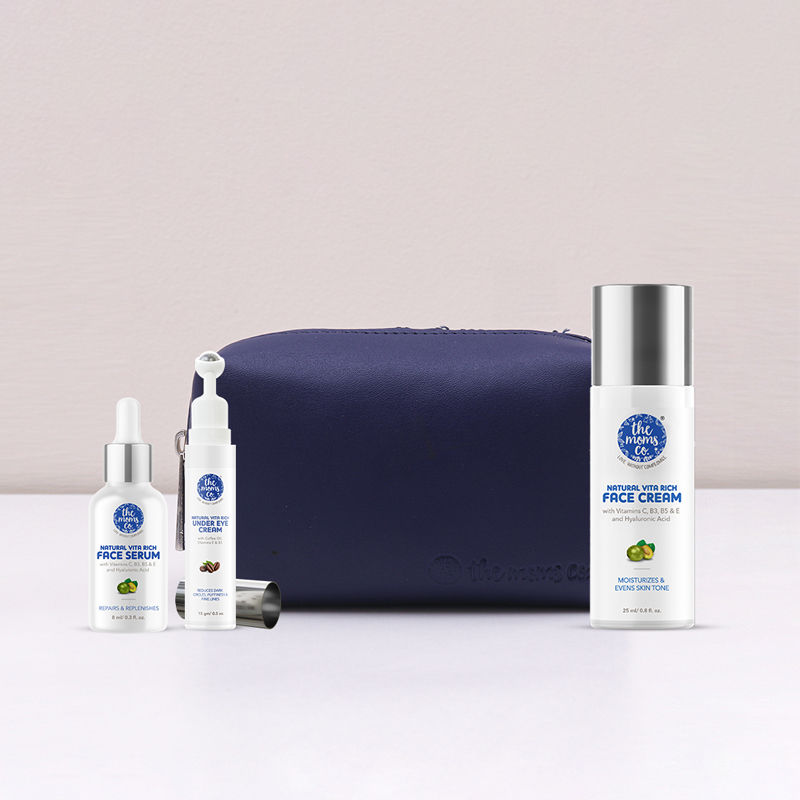 The Moms Co. 24 Hour Skincare Starter Kit
+INFO
Be the first to review
Sold By: Amishi Consumer Technologies Pvt Ltd (MP) - MUM.Sold By: Amishi Consumer Technologies Pvt Ltd (MP) - MUM. Address: "M/s Amishi Consumer Technologies Pvt.Ltd. 1982/9, FF, Chuna Mandi, Paharganj, New Delhi - 110013 Delhi India " New Delhi-110013
Email ID: absar.hussain@themomsco.com

Fulfilled by Purplle indicates that the products will be checked and fulfilled by Purplle's fulfillment service. The seller will be responsible for the product's quality.

100% Genuine Products

Return 15 Days
Description
Highlights
24 Hours Starter Kit by The Moms Co. is a toxin-free combination of 3 face care essentials - Natural Vita Rich Face Cream, Natural Vita Rich Face Serum and Natural Vita Rich Under Eye Cream. The face cream and face serum are enriched with Hyaluronic Acid and Vitamin C and work to reduce pigmentation and blemishes while deeply hydrating the skin. The under eye cream has Coffee Oil, Vitamin E and Hyaluronic Acid which repairs dark circles, fine lines and puffiness. 24 Hours Starter Kit by The Moms Co. is an effective solution for: Pigmentation and Dark Spots Blemishes Uneven skin tone Skin dryness Dark circles and fine lines
Ideal For
Oily Skin

Dry Skin

Normal Skin

Acne Prone Skin

Sensitive Skin

Combination Skin

Pigmentation

Fine Lines

Signs Of Ageing

Wrinkles

blemishes

Dark Circles

Under-Eye Puffiness

Dull skin

Dirt & Impurities

Clogged Pores

Dehydrated Skin

Sagging Skin

Uneven Skin Tone

Dead Skin Cells
Benefits
Nourishing

Hydrating

Anti-Aging

Blurs Fine Lines

Prevents Premature Aging

Anti-Wrinkle

Lightens blemishes

Reduces Pigmentation

Evens Skin Tone

Skin Brightening

Glowing Skin

Skin Firming

Skin Tightening

Easy Application

Smooth Texture

Skin Soothing

Skin Smoothening

Non-Greasy

Diminishes Dark Circles

Reduces Puffiness

Skin Cleansing

unclog pores
Description
Bullet 1: Reduces Pigmentation - Hyaluronic Acid and Arbutin in Natural Vita Rich Face Cream deeply penetrates the skin to reduce the appearance of pigmentation.
Bullet 2: Improves Uneven Skin Tone and Fine Lines -Vitamin C rich Kakadu Plum and Hyaluronic Acid in Natural Vita Rich Face Serum work together to stimulate the production of collagen and reduce fine lines and wrinkles.Bullet 3: Reduces dark circles, fine lines and puffiness - Coffee Oil in the Natural Vita Rich Under Eye Cream, rich in antioxidants, repairs and rejuvenates the under eye area.
Hyaluronic Acid and Vitamin E deeply hydrate and moisturize the skin, reducing fine lines and puffiness.
Bullet 4: Improves Skin Hydration and Radiance - Hyaluronic Acid helps replenish the moisture in the skin.
Together, Chia Seed Oil and Vitamin C improve skin radiance.- Pigmentation and Dark Spots - Blemishes - Uneven skin tone - Skin dryness - Dark circles and fine linesAustralia-Certified Toxin-FreeAustralia-Certified Toxin-Free and Made SafeSulphate-Free, SLS/SLES FreeSulphate-Free, SLS/SLES Free, we use gentle, coconut and olive based cleansersParaben FreeParaben Free, we instead use natural but effective preservativesMineral Oil FreeMade without Mineral Oil, Petrolatum or Petroleum-Derived IngredientsFree from Artificial FragrancesWe use only essential oil based fragrancesSilicon-FreeMade without dimethicone (D), trichomethicone (T) or dimethicone copolyol (DC)Free from all Harmful ChemicalsMade without DEA/TEA, Phenoxyethanol, PEGs and many other potentially harmful chemicals.- Reduces dark spots and pigmentation - Deeply hydrates the skin - Reduces dark circles, fine lines and puffiness - Improves uneven skin toneAll skin typesAt The Moms Co., we have partnered with Mother Nature to source the best natural and USDA-Certified Organic ingredients, to make 100% toxin free, natural and safe products for babies, expecting and new moms.
Our mantra is Love.
Without compromise., a reflection of every moms unconditional love for her child.
We created our Baby Care range so that as a parent, you can focus on those beautiful moments with your little bundle of joy, without the worry of any toxins or harmful chemicals.
After all, you know you are being super safe with Indias only All-Natural, Australia-Certified Toxin-Free and Made Safe range, created specially for you.
Read more
Specification
Skin Concern :
blemishes, Clogged Pores, Dark Circles, Dead Skin Cells, Dehydrated Skin, Dirt & Impurities, Dull skin, Fine Lines, Pigmentation, Sagging Skin, Signs Of Ageing, Under-Eye Puffiness, Uneven Skin Tone, Wrinkles
Skin Type :
Acne Prone Skin, Combination Skin, Dry Skin, Normal Skin, Oily Skin, Sensitive Skin
Speciality :
Dermatologically Tested, Paraben Free
Active Ingredients :
Chia Seeds, Chia Seeds Extracts, Coffee, Hyaluronic Acid, Vitamin C
Benefits :
Anti-Aging, Anti-Wrinkle, Blurs Fine Lines, Diminishes Dark Circles, Easy Application, Evens Skin Tone, Glowing Skin, Hydrating, Lightens blemishes, Non-Greasy, Nourishing, Prevents Premature Aging, Reduces Pigmentation, Reduces Puffiness, Skin Brightening, Skin Cleansing, Skin Firming, Skin Smoothening, Skin Soothing, Skin Tightening, Smooth Texture, unclog pores
Country of Origin :
India
Best Before : 31 Mar 2025
15 days Return Policy, free Shipping...Know more