The Moms Co. All Natural, Complete Care Solution for Stretch Marks for Women| Natural Stretch Mark Oil (100ml) and Natural Body Butter (100g)|Stretch Marks Cream for Pregnancy| Stretch Mark Oil
The Moms Co. All Natural, Complete Care Solution for Stretch Marks for Women| Natural Stretch Mark Oil (100ml) and Natural Body Butter (100g)|Stretch Marks Cream for Pregnancy| Stretch Mark Oil
+INFO
Sold By: Avni Beauty (V - V) - (S or R) - Bangalore.Sold By: Avni Beauty (V - V) - (S or R) - Bangalore. Address: 23-3/4, Survey 3/2 measuring 1 acre 30 Guntas, Survey 3/1 measuring, Kasaba Hobli, Thonachinakuppe,, Nelamangala, Bengaluru Urban, Karnataka, 562123
Email ID: sourcingteam@purplle.com

Fulfilled by Purplle indicates that the products will be checked and fulfilled by Purplle's fulfillment service. The seller will be responsible for the product's quality.

100% Genuine Products

Return 15 Days
Description
From the Manufacturers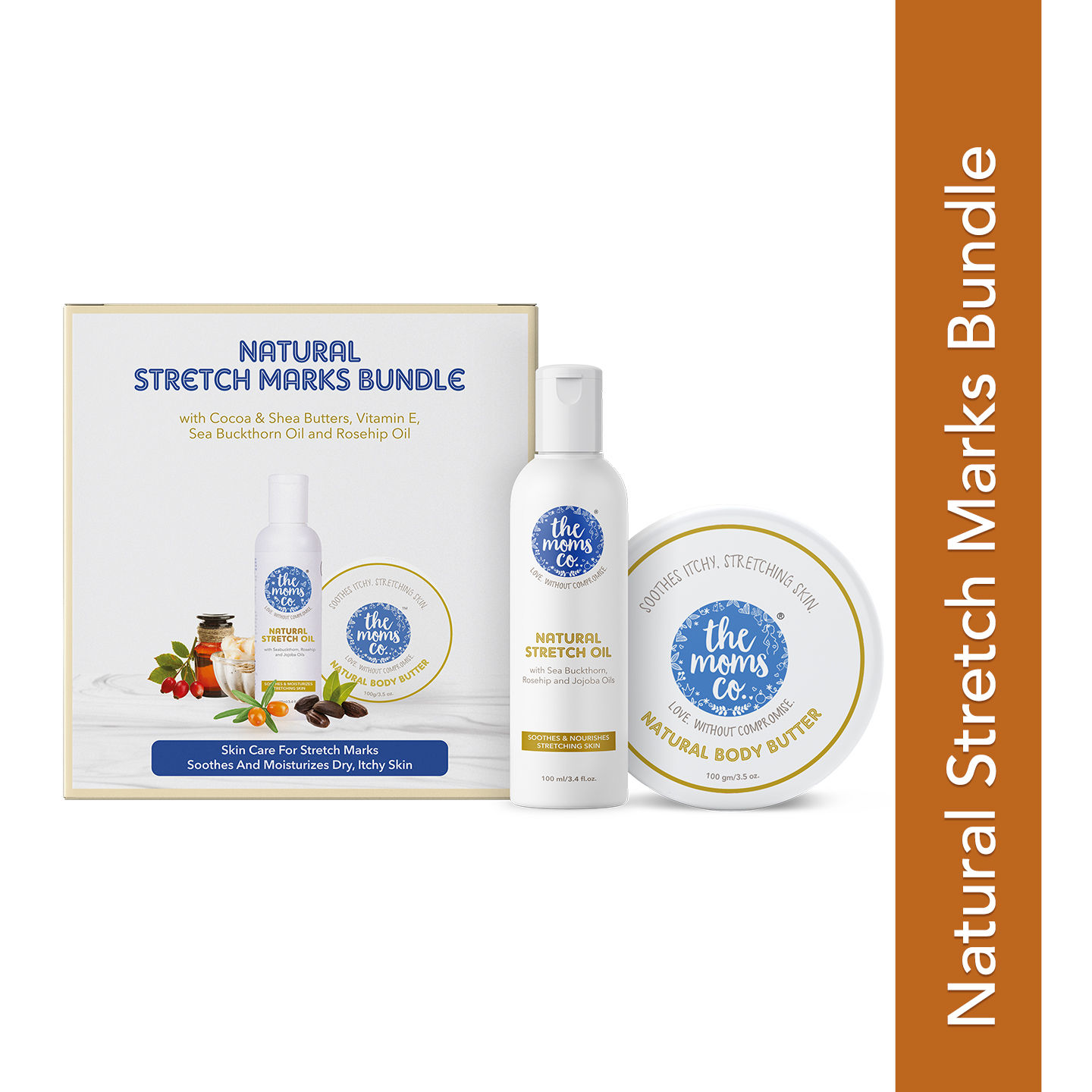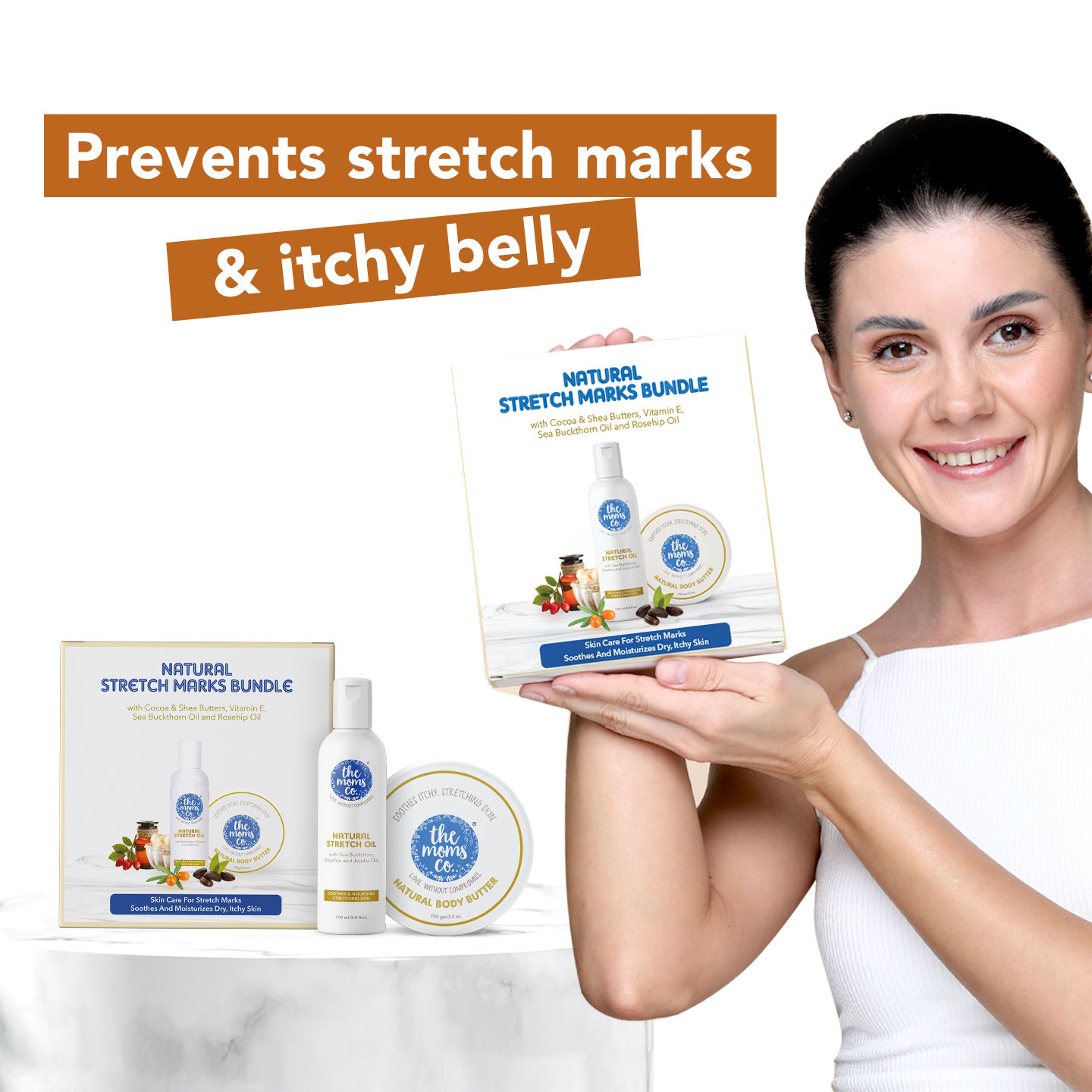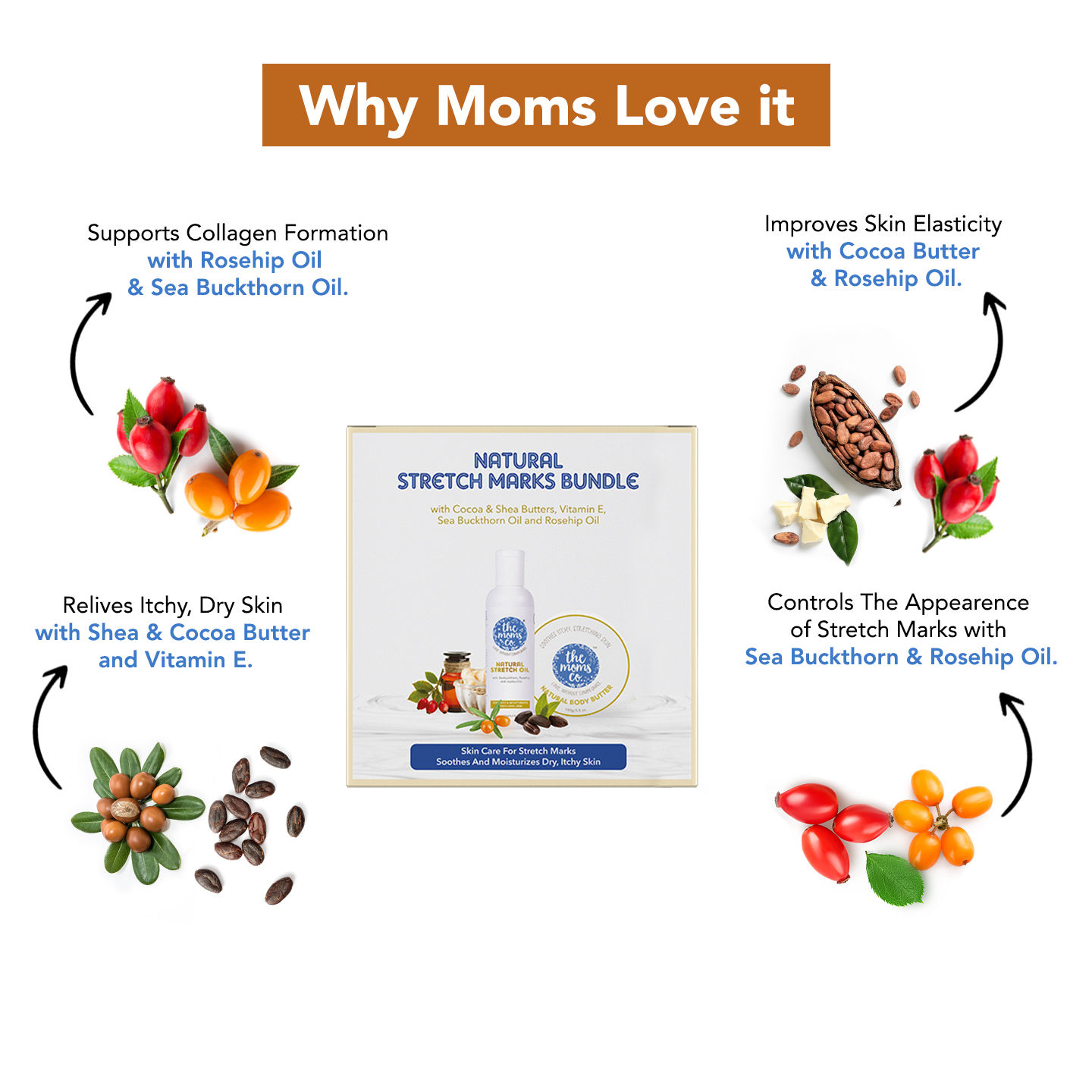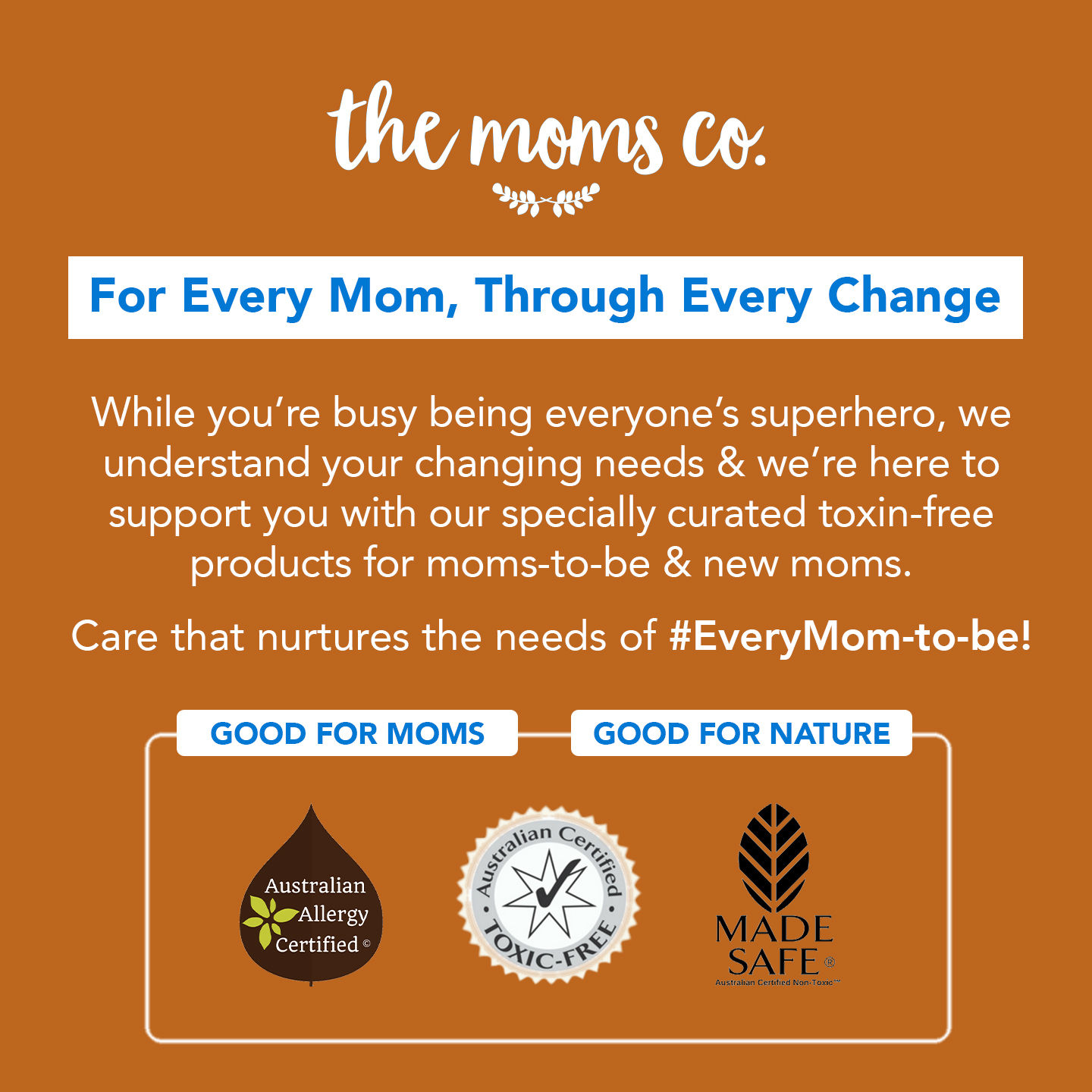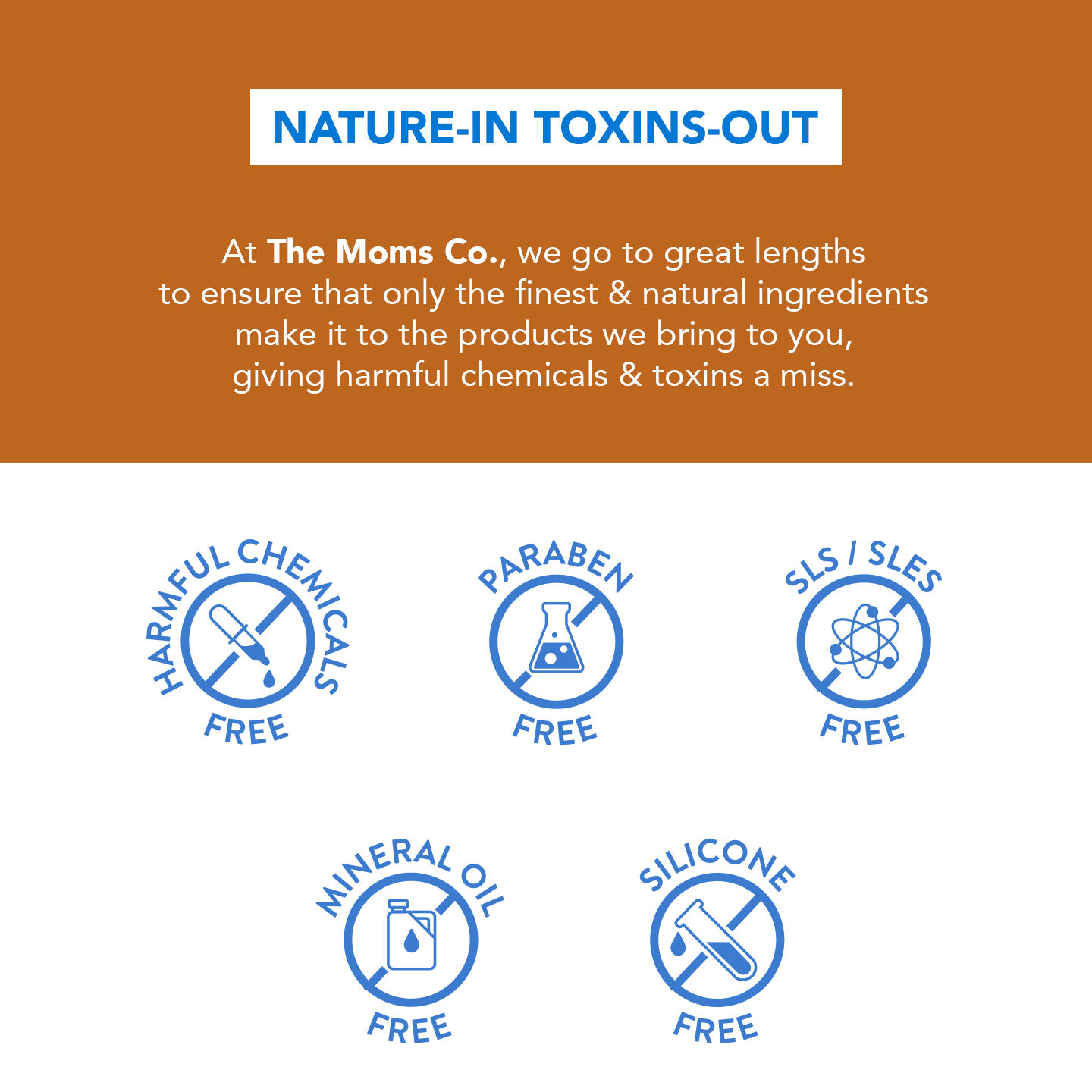 Read more
Highlights
Our Stretch Marks bundle with the Natural Body Butter and Natural Stretch Oil work together to soothe and moisturise dry skin, build collagen and heal wounds and scars.
Ideal For
Stretch Marks

Sagging Skin
Benefits
Maintains Elasticity

Repairs Skin
Description
l. Oz.) and Natural Stretch Marks Oil (100ml / 3.4 Fl. Oz.) is our best combination to prevent stretch marks and for stretch marks removal. The Moms Co. Natural Shea & Cocoa Butter Stretch Mark Cream are an Australia-Certified toxin free pregnancy body cream, while Natural Stretch Oil is a certified toxin free Belly Oil For Pregnancy. These are a combination of Cocoa and Shea Butter with natural Vitamin E, Seabuckthorn Oil and Vitamin C rich Rosehip Oils that increases your skin's natural elasticity, providing comfort to your stretching belly, hips and breasts. PROTECT YOUR SKIN THE NATURAL WAY WITH THE MOMS COMPANY LUXURIOUS PREGNANCY SKIN AND PRENATAL MASSAGE PRODUCTS. This all-natural best pregnancy stretch mark cream bundle nurtures your entire body and relieves the itch of stretching skin as your belly, breasts and hips grow with your baby. With cocoa and shea butter for pregnancy which is known to soften skin and prevent scarring. Great for use as a stretch mark removing cream even for stretch marks after delivery What's In: Soothes itchy stressed skin Deep moisturising with Shea Butter and Cocoa Body Butter Promotes skin elasticity and skin regeneration with Seabuckthorn Oil Prevents skin damage with Natural Vitamin E Stimulates collagen synthesis with Vitamin C rich Rosehip Oil What's Out: This shea and cocoa butter for pregnancy is made without Mineral Oil, Sulphates (SLS, SLES), Parabens, DEA/TEA, Phenoxyethanol, Synthetic Fragrances, PEGs and many other potentially harmful chemicals. Safe For: Pregnancy, Postpartum, Breastfeeding, Baby. Certified Toxin Free and Made Safe by Safe Cosmetics Australia Dermatologically tested for sensitive Indian skin. The Moms Co. Natural Tummy Butter For Pregnancy, (200g / 7 Fl. Oz.) and Natural Stretch Marks Oil (100ml / 3.4 Fl. Oz.) is our best combination to prevent stretch marks and for stretch marks removal. The Moms Co. Natural Shea & Cocoa Butter Stretch Mark Cream are an Australia-Certified toxin free pregnancy body cream, while Natural Stretch Oil is a certified toxin free Belly Oil For Pregnancy. These are a combination of Cocoa and Shea Butter with natural Vitamin E, Seabuckthorn Oil and Vitamin C rich Rosehip Oils that increases your skin's natural elasticity, providing comfort to your stretching belly, hips and breasts. PROTECT YOUR SKIN THE NATURAL WAY WITH THE MOMS COMPANY LUXURIOUS PREGNANCY SKIN AND PRENATAL MASSAGE PRODUCTS. This all-natural best pregnancy stretch mark cream bundle nurtures your entire body and relieves the itch of stretching skin as your belly, breasts and hips grow with your baby. With cocoa and shea butter for pregnancy which is known to soften skin and prevent scarring. Great for use as a stretch mark removing cream even for stretch marks after delivery What's In: Soothes itchy stressed skin Deep moisturising with Shea Butter and Cocoa Body Butter Promotes skin elasticity and skin regeneration with Seabuckthorn Oil Prevents skin damage with Natural Vitamin E Stimulates collagen synthesis with Vitamin C rich Rosehip Oil What's Out: This shea and cocoa butter for pregnancy is made without Mineral Oil, Sulphates (SLS, SLES), Parabens, DEA/TEA, Phenoxyethanol, Synthetic Fragrances, PEGs and many other potentially harmful chemicals. Safe For: Pregnancy, Postpartum, Breastfeeding, Baby. Certified Toxin Free and Made Safe by Safe Cosmetics Australia Dermatologically tested for sensitive Indian skin
Read more
Specification
Primary Concerns :
Sagging Skin, Stretch Marks
Primary Benefits :
Maintains Elasticity, Repairs Skin
Country of Origin :
India
Best Before : 31 Jan 2025
15 days Return Policy, free Shipping...Know more