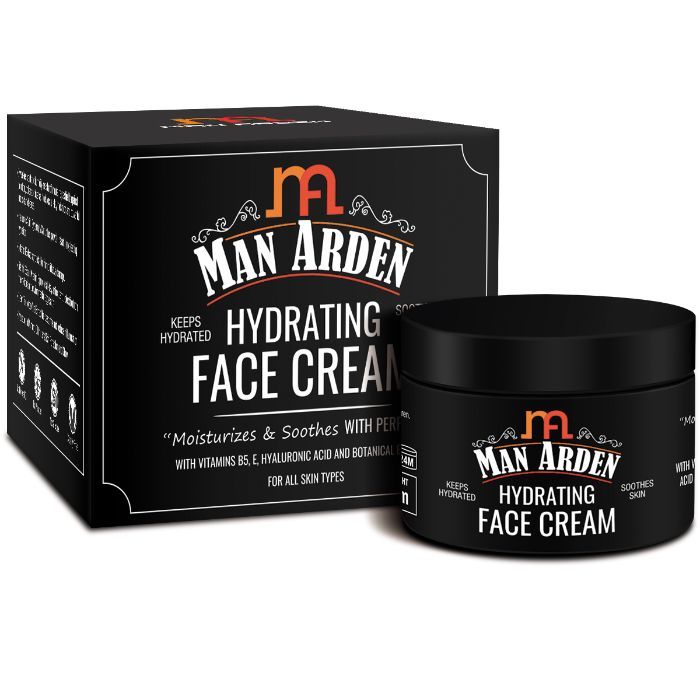 Man Arden Hydrating Face Cream For Men, (50 g) - With Vitamin B5, Hyaluronic Acid For Skin Moisturization
+INFO
Be the first to review
Sold By: DS - Emmbros Overseas Lifestyle Pvt. Ltd.Sold By: DS - Emmbros Overseas Lifestyle Pvt. Ltd. Address: EMMBROS OVERSEAS LIFESTYLE PVT LTD Plot No. 296, Industrial Area Phase-2, Panchkula | Haryana (134113), India
Email ID: orders@emmbrosoverseas.com

Fulfilled by Purplle indicates that the products will be checked and fulfilled by Purplle's fulfillment service. The seller will be responsible for the product's quality.

100% Genuine Products

Return 15 Days
Description
Highlights
Male skin being thicker, oilier and sweatier than the female skin needs a moisturizer that could easily penetrate the skin and retains its hydration without making it greasy.
Description
Male skin being thicker, oilier and sweatier than the female skin needs a moisturizer that could easily penetrate the skin and retains its hydration without making it greasy.
Man Arden Hydrating Face Cream is formulated to meet the specific needs of the male skin that goes beyond hydration.
The ingredients are carefully selected to eliminate risk of skin damage in the long-run.
Enriched with vitamins, natural oils and plant extracts, it provides deep hydration and nourishment to the stressed dehydrated skin.
This skin care essential helps in boosting suppleness and radiance of your skin and protects it from weather elements and premature ageing.
Natural Oils for Hydrated Skin -To strengthen the moisture barrier of your skin, Man Arden Hydrating Face Cream relies on natural moisturizing ingredients such as aloe vera gel, soybean oil, avocado oil, sweet almond oil and honey.
The natural emollients are safer alternatives to chemical lubricants.
In addition to moisturizing the skin, the nutrient rich natural emollients keep the skin healthy.
Hyaluronic Acid and Vitamin B5 for Smoother Skin -Hyaluronic acid molecules occur naturally in the skin.
However, the matured skin does not contain sufficient hyaluronic acid to maintain its plumped-up youthful texture.
Man Arden Hydrating Face Cream supplies the skin this important substance for enhanced texture and radiance.
Furthermore, the face cream delivers vitamin B5, a nutrient essential for preserving the skins natural protective barrier that protects against the harmful activities of environmental toxins.
Soothes Sensitive Skin -Nowadays, a large number of men complain of sensitive skin which is worsened by reckless shaving habits.
Man Arden Hydrating Face Cream is the ideal moisturizing skin care product for men with sensitive skin.
It contains cucumber for cooling the irritated skin and fighting inflammation.
Oats extract in the cream helps in calming the stressed skin.
Botanical Extracts for Healthy Skin -With the goodness of precious botanical extracts, the advanced formula of Man Arden Hydrating Face Cream protects the skin from the environmental stressors that damage the skin cells and speed up the ageing process.
Green tea, strawberry and chamomile flower are excellent sources of active antioxidant compounds.
Sugar cane extract supports exfoliation of dead cells that helps maintain the healthy cell renewal process
Read more
Specification
Country of Origin :
India
15 days Return Policy, free Shipping...Know more