Nyassa Argan Oil (5 ml) Is Out Of Stock.
This product is out of stock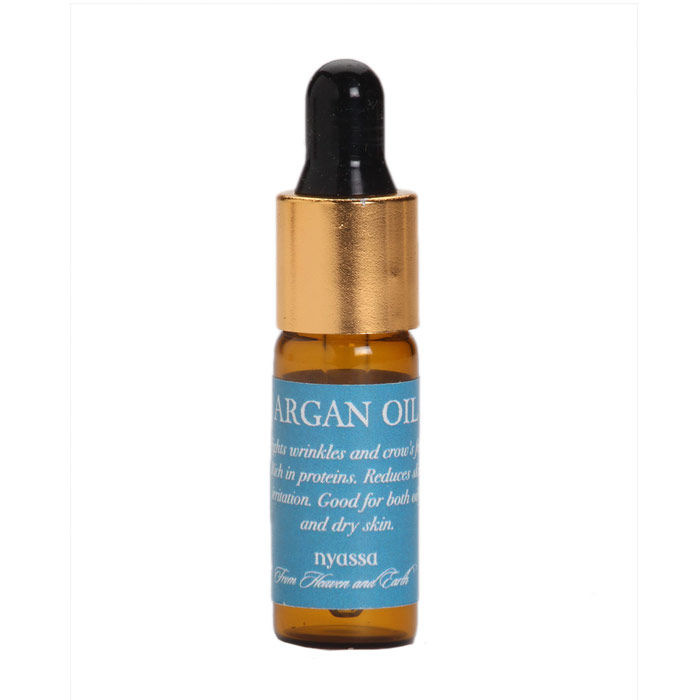 Nyassa Argan Oil (5 ml)
+INFO
Be the first to review

100% Genuine Products

Return 15 Days
Description
Highlights
Argan Oil: Try our sampler size Argan oil. Easy to carry and a great first time sampler! Nyassa Argan Oil does not contain any petroleum prouducts or parabens. Vitamin E is used in the oil as a natural preservative. What is Argan oil? Argan oil is a plant oil produced from the kernels of the argan tree from Morocco. Protein rich Argan oil is very good for the elasticity of skin. It aids in tightening the skin and giving it healthy glow.
Description
Argan Oil: Try our sampler size Argan oil.
Easy to carry and a great first time sampler!
Nyassa Argan Oil does not contain any petroleum prouducts or parabens.
Vitamin E is used in the oil as a natural preservative.
What is Argan oil?
Argan oil is a plant oil produced from the kernels of the argan tree from Morocco.
Protein rich Argan oil is very good for the elasticity of skin.
It aids in tightening the skin and giving it healthy glow.
Vitamin E present in this cold pressed carrier oil is very useful in restoring the natural hair and renewing and repairing the damage caused by skin irritation.
Many external and internal agents like heat, over styling and oxidization damage the hair.
Argan oil enhances the elasticity of hair and proves to be very nourishing for the growth of hair.
It restores the smoothness of hair and makes the hair shine.
As it is non-greasy, it locks in the moisture in, conditions dry hair and restores the luster and shine of hair.
Also a great oil for color treated hair.
Now you can flaunt a youthful and anti wrinkle look with the protein rich Argan oil.
Nyassa pure Argan oil is unscented.
You can add few drops of your favorite Nyassa essential oil or fragrance oil
Read more
15 days Return Policy, free Shipping...Know more