Vaadi Herbals Vitamin C Soap For Tan Removal & Instant Brightening (75 gms X 12) (Pack of 12)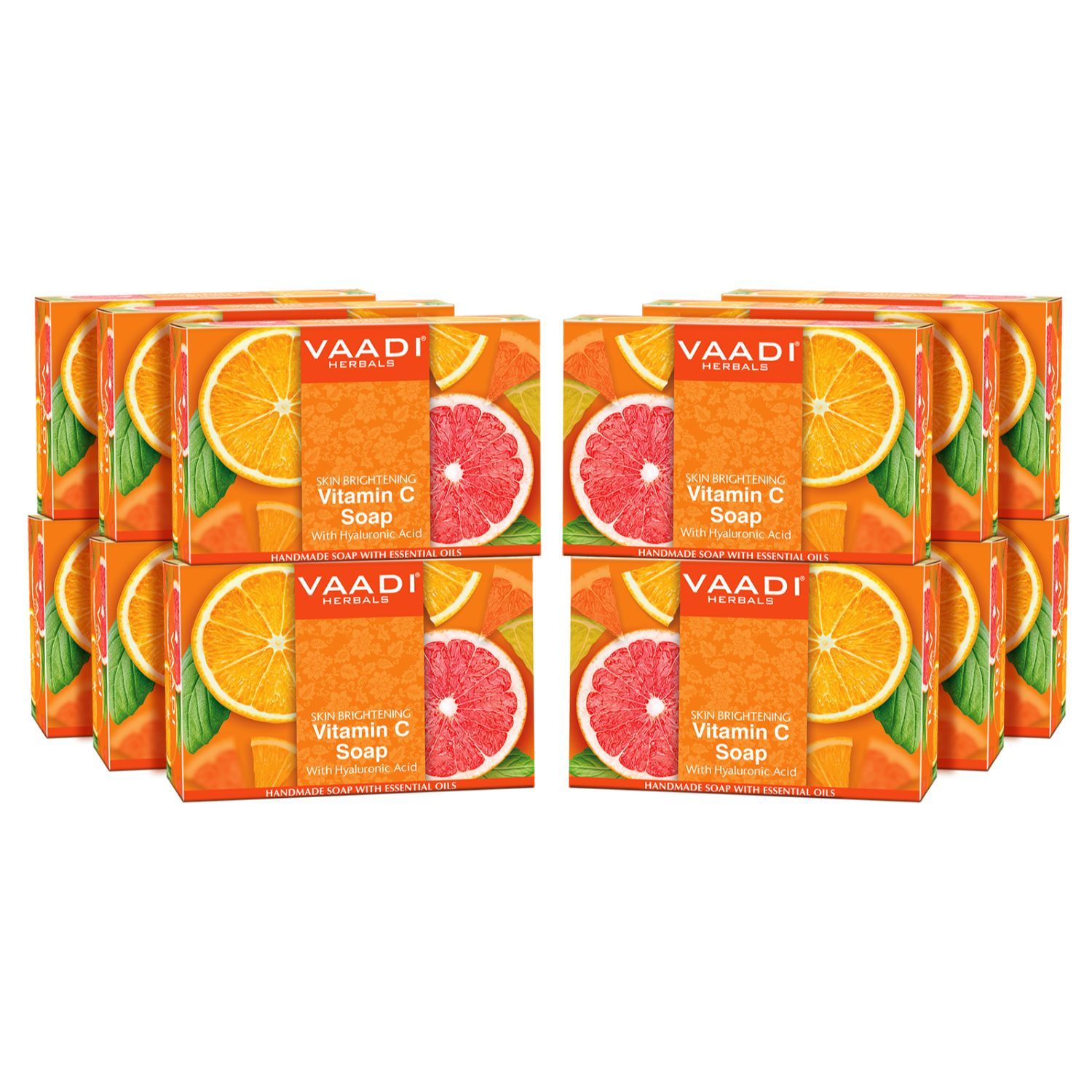 Vaadi Herbals Vitamin C Soap For Tan Removal & Instant Brightening (75 gms X 12) (Pack of 12)
+INFO
Be the first to review
Sold By: Digital Business Ventures (MP) GGN.Sold By: Digital Business Ventures (MP) GGN. Address: Khasra no. 20/7/1, Village Jamalpur, Tehsil Farukh Nagar, Gurgaon, Gurgaon, Haryana, 123503
Email ID: sujit@dbventures.com

Fulfilled by Purplle indicates that the products will be checked and fulfilled by Purplle's fulfillment service. The seller will be responsible for the product's quality.

100% Genuine Products

Return 15 Days
Description
Highlights
This advanced brightening and skin-smoothening Vitamin C rich soap formulated with steam distilled extract of Vitamin C rich fruits – Orange, Lemon, Kakadu Plum & Kiwi protects skin barrier. It gently cleanses your skin and its natural ingredients help protect the skin from UV damage, smoothen rough skin and improve skin texture and appearance by boosting collagen production. Kakadu Plum Extract: Repairs skin cells and brightens complexion Hyaluronic Acid: Acts as a humectant and retains moisture in skin Orange Peel Extract: Helps lighten pigmentation Lemon Peel Extract: Stimulates new cell growth and enhances elasticity of the skin Kiwi Extract: Excellent source of antioxidant, it prevents skin from ageing
Description
This Vitamin C rich skin brightening soap gently washes off dirt from skin while maintaining the pH balance.
It keeps skin soft and supple while cleansing skin.
This nutrient rich soap ensures that every bath is a refreshing and skin rejuvenating experience.
Crafted with two powerhouses - Vitamin C and Honey - our bathing soap deeply cleanses while enhancing your skins natural radiance.
With its citrusy aroma, Vitamin C Nourishing and Skin Brightening Soap reignites your senses and makes you feel refreshed.
It has exceptional moisturizing properties that keep the skin smooth, soft, and supple.
Being a great source of vitamin C, the orange extracts are used in the formulation to impart day-long freshness and youthful skin.
It has anti-bacterial and moisturizing properties that help in cleansing and preventing dryness of the skin.
Furthermore, vitamin C helps to reduce blemishes, hyperpigmentation and gives your skin a natural glow.Whereas, coconut oil helps strengthen your skin's protective barrier layer, trapping moisture inside while keeping your skin supple and hydrated.
Shea butter provides nourishment and rich moisturisation making your skin soft, toned, and smooth.
Suitable for all skin types, the soothing vitamin C brings an intense fragrance that wraps your skin in a wonderful scent all day long.
Read more
Specification
Country of Origin :
India
Best Before : 31 Aug 2025
15 days Return Policy, free Shipping...Know more